Does America Need an Ebola Czar?
Republicans say they want a point person on the nation's Ebola response, Democrats point to the Surgeon General nominee the GOP blocked.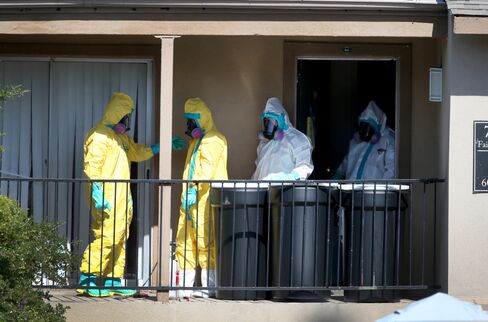 Shortly after news broke early Sunday that a Texas hospital employee was infected with Ebola, Candy Crowley, the host of CNN's State of the Union program, posed a question to John McCain. "Is there anything more you think the federal government can do?" Crowley asked.
It was a slow-pitch down the middle, and the Arizona Republican, who has been criticizing President Obama's leadership since the two men went head-to-head in the 2008 presidential contest, took a quick swing.
"Well, first of all, from spending time here in Arizona, my constituents are not comforted," McCain answered. "There has to be more reassurance given to them. I would say, we don't know exactly who's in charge. There has to be some kind of czar."
That suggestion may come as a surprise to many political observers. After all, it was McCain who, in a 2009 tweet, criticized President Obama for his over reliance on so-called czars:
https://twitter.com/SenJohnMcCain/status/1972425520
Still, the Arizona senator is hardly the first (or most vocal) Republican to lambast the Obama administration's handling of the Ebola outbreak. Some GOP candidates, like North Carolina's Thom Tillis, have made it a campaign issue, calling for harsher travel restrictions on who enters the United States.
Last Monday, without using the word "czar" specifically, Republicans in Congress wrote a stern letter to the White House, urging Obama to appoint a special senior official to co-ordinate the government's interagency response to the disease.
"This requires a global response and the U.S. needs to provide the necessary leadership to control and eliminate this outbreak," wrote Senator Jerry Moran and Representative Frank Wolf. "We believe it is imperative that you designate a single senior advisor who will be responsible for coordination all U.S. agencies and policies involving the international and domestic response to Ebola."
At a White House briefing that same day, Press Secretary Josh Earnest said that Lisa Monaco, a White House homeland security advisor, was the "point person" overseeing interagency response to the Ebola outbreak.
On Sunday, almost a week later, it was Monaco who briefed Obama on developments about the infected health care worker in Texas, the administration said in a statement. Afterward, the president ordered an immediate CDC investigation into hospital protocols.
But with fear increasing that the virus could spread in the United States, another name has started creeping back into the news: Dr. Vivek Murthy.
It's been almost a year since Murthy was nominated as Obama's pick for the position of U.S. Surgeon General, the nation's most senior medical official. After he called gun violence a public health issue in America, Murthy's nomination was stalled, largely because of opposition from the National Rifle Association. The position of the nation's "top doctor" has been vacant ever since, a fact pointed out by a recent MSNBC op-ed titled "How the NRA is making the Ebola crisis worse."
Would Murthy have been the czar Republicans now want? It's unlikely, given that Moran and Wolf suggested Obama pick former Secretary of State Colin Powell, former Secretary of State Robert Gates, or former Secretary of Health and Human Services Mike Leavitt, all three of whom worked for George W. Bush, instead.
Before it's here, it's on the Bloomberg Terminal.
LEARN MORE