Documents Show Clinton White House's Fight Club Culture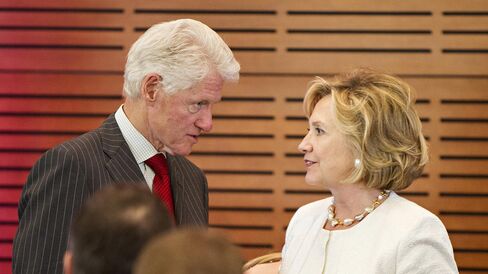 The Clinton White House operated with a siege mentality for eight years, fashioning political strategies designed to preserve the first family and neutralize enemies both real and perceived, according to presidential documents released yesterday for the first time.
Those files shed new light on the approach President Bill Clinton, First lady Hillary Clinton and their aides took to dealing with political threats, including never-give-an-inch aggressiveness, detailed preparation and efforts to get favorable stories in the media.
Clinton White House aides kept track of administration officials who spoke ill of Hillary Clinton's health-care push. The communications team asked "Sophie's Choice" author William Styron to write an op-ed noting the 1994 anniversary of deputy White House counsel Vince Foster's suicide to discredit a congressional investigation into an Arkansas land deal known as Whitewater.
"The one-year anniversary of Vince Foster's suicide on July 20th in conjunction with the beginning of congressional Whitewater hearings presents an appropriate opportunity to rebut conspiracy theories over his suicide, and to directly address the political motivations of those who continue to exploit the issue," White House officials David Dreyer and Julia Moffett wrote in a June 1994 memo.
Clinton Culture
It all added up to a fight club culture that permeated the White House and remains a part of the ethos of two-headed Clinton political operation, which would be put to work should Hillary Clinton run for president in 2016.
The documents were published online yesterday by the William J. Clinton Library in Little Rock, Arkansas, as part of a regular release of documents from his presidency.
Two of President Barack Obama's top legal picks -- Supreme Court Justice Elena Kagan and White House Counsel W. Neil Eggleston -- appear throughout the documents due to their work as Clinton associate counsels, and both were involved in seeking to limit congressional access to White House information.
A particular focus of White House aides was protecting Hillary Clinton during the Whitewater investigations.
After Bill Clinton became president in 1993, the couple endured scrutiny over a 1978 Arkansas real-estate deal they had taken part in. While several Clinton associates were convicted of fraud in the failed venture, the Clintons were eventually cleared of wrongdoing.
'Defend HRC'
The investigations included inquiries into Hillary Clinton's legal work for a savings and loan that failed.
For a March 24, 1994, presidential news conference, the second bullet point on a draft of talking points reads: "Defend HRC," using the acronym for Hillary Rodham Clinton.
"Stress her ethics and accomplishments as a lawyer and in doing public-service work," it reads. "No distance between you and HRC regarding Whitewater."
As Bill and Hillary Clinton prepared to do a joint television interview in March of 1994, a memo from Democratic strategist Paul Begala urged the president to "take the lead."
"In many joint interviews, the president defers to the first lady," the memo reads. "This may or may not be real, and it might be as simple as Southern manners, but it's important that the president take the lead on this issue."
Other points in the Begala memo relate to defending the first lady from the public perception that she had become a "political liability" and wielded too much power in the White House.
Op-Ed Response
"Every first lady has had her share of controversy," the memo reads. It goes on to cite high approval ratings for her in polls.
In January 1996, at least six White House aides -- including Bill Clinton's campaign strategist Dick Morris -- helped Hillary Clinton craft an op-ed column giving her side of the story, according to the documents.
In the piece, which ran in newspapers including the Spokesman-Review in Spokane, Washington, Clinton defended herself against what she called "outrageous accusations."
"Close to $30 million in taxpayer money has been spent investigating Whitewater," she wrote. "But none of these exhaustive inquiries has turned up evidence that we did anything illegal, unethical or wrong."
The current-day Obama picks -- Kagan and Eggleston -- were among Clinton aides who sought to limit how many documents were released to congressional and Government Accountability Office investigators probing Whitewater and the 1993 firings of seven employees in the White House travel office.
"The committee's attempt to push its investigation to invade the relationship between the president and his private counsel, however, goes too far," Kagan wrote Dec. 13, 1995 about the special Senate committee investigating Whitewater. "We cannot responsibly accede to this flagrant abuse of Congress's investigative powers."
Lawmaker's Pursuit
William Clinger, Jr., a Pennsylvania Republican who served two terms in Congress, pursued the Clinton White House as chairman of the House Government Reform and Oversight Committee with his investigation of the travel office firings and subsequent response.
White House staff wrote memos detailing efforts to keep documents relating to the travel office and Whitewater investigations confidential and out of the hands of U.S. lawmakers and the GAO.
Losing Control
"We need to treat all of these investigations with the utmost seriousness," Eggleston wrote in a June 7, 1994, memo to Lloyd Cutler, working as a special counsel to Clinton. "We will lose all control," he wrote, if the GAO "is permitted to wander the halls and conduct interviews and review documents at its whim."
Kagan in May 1996 apologized in a memo to Jack Quinn, then White House counsel, for not informing him of a conversation about an appearance on the "Crossfire" political TV show, using an expletive to express how much she thought she'd erred.
"God, do I feel like an idiot," Kagan concluded in the explanation to Quinn about an appearance scheduled for "Ab" on the show. Abner Mikva was White House counsel before Quinn. The show was about a lawsuit filed by Paula Jones, a former Arkansas state employee, against Bill Clinton for sexual harassment, alleging it occurred when he was governor of the state.
Kagan spent time defending Clinton in the Jones case, which settled before going to trial. Kagan worked on it with lawyers from Skadden, Arps, Slate, Meagher & Flom. The team was afraid the Supreme Court would agree to hear the case, which it never did.
While most of her work related to Clinton damage control, Kagan in 1996 had to help smooth the fallout when an Olympic kayaker was arrested while paddling on the flooded Potomac River. Kagan refrained from offering a recommendation on that issue, ending her e-mail with, "What next?"
Before it's here, it's on the Bloomberg Terminal.
LEARN MORE