Roberts Gets a Boost From Ted Cruz and the Tea Party
Trying to shore up conservative support, incumbent turns to a hero of the Right.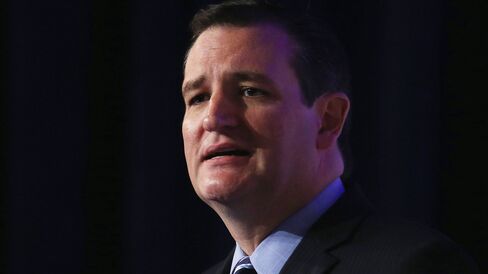 Facing a unexpectedly tough race and needing to solidify his support among conservatives, Senator Pat Roberts of Kansas is bringing in the big guns. First came Sarah Palin. On Thursday, it was Ted Cruz's turn.
Speaking to a crowd in Wichita, the Texas Senator tried to bridge the divide between the 78-year-old Roberts and the younger, more ideological conservative base, many of whom favored a Tea Party challenger in the August primary.
"I want to talk in particular to conservative voters to Tea Party voters," Cruz said. "Let me recognize we had a hard-fought primary here in the state of Kansas. I understand that. I understand, I promise you, there is nobody more frustrated with Washington, D.C. than I am. Let me urge you: If you're frustrated with Washington, the answer is not to stay home and keep Harry Reid as majority leader."
Roberts had nothing but praise for his younger colleague. "Ted Cruz came roaring into the Senate in 2012 a lot like a prairie fire,'' he said. "We have to have those every once in a while to clean out the weeds."
Roberts is trying to fend off from independent Greg Orman, a businessman who's become a serious contender with a good campaign and a few lucky breaks. A ruling by the Kansas Supreme Court allowed the Democratic candidate to remove his name on the ballot, and Orman appears to be consolidating the anti-Roberts vote. While Orman says he will caucus with whichever party is in the majority, Republicans fear that their once-solid seat could be lost. (Polls suggest the race has tightened or even turned in Roberts' favor after Orman enjoyed an early bounce.)
In their speech, Cruz and Roberts tried to link Orman to Senate Majority Leader Harry Reid and President Barack Obama, a message the Roberts campaign has pushed for weeks. Orman voted for Obama in 2008 (but says he chose Mitt Romney in 2012) and contributed to both Democratic and Republican campaign committees.
"If you elect me, Pat Roberts,'' the incumbent said, "we will win a Republican majority in the Senate. We'll take the Senate back. We'll lower your taxes. We'll do tax reform….we will restore your faith in government. We'll get things done."
But neither moderate Kansas Republicans nor conservatives are entirely happy these days. Moderates are frustrated with Republican Governor Sam Brownback, blaming his hard-line conservative agenda for the state's fiscal troubles. Conservatives backed primary challenger Milton Wolf against Roberts and some still question Roberts' party credentials.
That was evident Thursday. A crowd of Orman supporters shouted "Retire Pat" as Roberts supporters tried to drown them out with their own "Vote for Pat" cheers. And a few feet away an elderly couple stood, wistfully holding a Milton Wolf sign.
Before it's here, it's on the Bloomberg Terminal.
LEARN MORE