Political Parties Can Raise More For 2016 Conventions
The Democratic and Republican parties may collect more from donors to finance the 2016 conventions.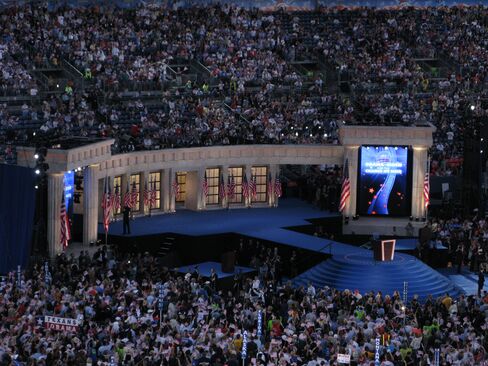 Bipartisanship alert! The national Democratic and Republican Party organizations are together praising an action by a federal government agency.
That would be the Federal Election Commission, which on Thursday approved a request by the Democratic National Committee and the Republican National Committee to raise additional funds from donors to help fund their quadrennial political conventions.
Under current law, an individual may give up to $32,400 per calendar year to a national party committee like the RNC or DNC; the limit is increased for inflation after every election. The FEC's decision Thursday allows the DNC and RNC to collect another $32,400 per year from donors to store in a separate account dedicated to defraying convention expenses.
The DNC and RNC made the request after an April law abolished public financing of conventions.
Democratic and Republican party organizations have said they've been hamstrung by federal court decisions and regulatory actions that increased the power of outside political groups that can accept donations in unlimited amounts.
The two parties got a victory in April, when the Supreme Court struck down limits on the total amount of money that individuals can donate to federal candidates, political action committees and party organizations.
Republicans have picked Cleveland as their 2016 host city; a Democratic decision has not been made.
Some reaction to the FEC's decision from Democratic and Republican campaign-finance lawyers:
https://twitter.com/marceelias/status/520276001130283008
https://twitter.com/michaeletoner/status/520286294606237696
Good-government groups denounced the FEC's action:
https://twitter.com/CampaignLegal/status/520280081881923584
Before it's here, it's on the Bloomberg Terminal.
LEARN MORE