What Virginia's Sleepy Senate Race Tells Us About 2014
Republican Ed Gillespie debates Democrat Mark Warner, and demonstrates why the GOP is doing better elsewhere.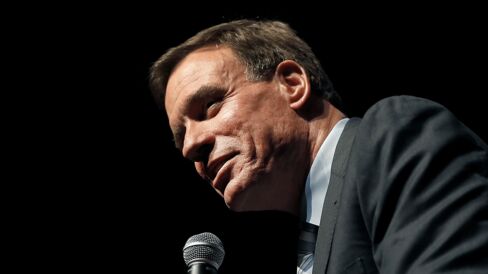 Ed Gillespie's campaign to defeat Senator Mark Warner has only ever made sense if Virginia voters made three leaps in quick succession. One: Voters who elected Barack Obama to the White House twice had to be sick of him. Two: They had to associate Warner, a popular former governor, not with his own work but with Obama's. Three: They would find an acceptable alternative in a lifetime political operative who joined George W. Bush's White House at its nadir.
Gillespie did his best to make that happen on Tuesday, insisting in a debate that Warner had gone mindlessly along as Obama policies had ruined Virginia. In his opening answers, Gillespie deployed the phrase "Obama-Warner policies" four times. Warner quickly used a question about Iraq to describe how he differed with the administration.
In that answer, Warner mentioned that Bush and Obama policies had led to the current crisis in the Levant. That was the only reference Warner made to Bush all night – a president whose approval rating in Virginia was 27 percent when Warner was elected, according to the 2008 exit polls. The Gillespie campaign, which doesn't really panic Democrats, is nonetheless a reminder of how far they've drifted from the heady days of the first Obama win.
"Governor Warner wouldn't recognize Senator Warner today," said Gillespie.
Warner made no obvious mistakes, and was able to cite Senate votes or possible deals every time he was challenged on his independence. Continuing a trend in this year's races, Warner insisted that he'd stood up to the president on foreign policy, not just in Iraq but "also in terms of being stronger with Putin and Russia." When moderator Chuck Todd asked Warner if he'd back Harry Reid for another round as majority leader, the senator shrugged that his colleagues "could perhaps do better in both parties."
Listening to that, you might forget that Warner led Gillespie in every poll of the race and was vastly outspending him on the air. The Republican challenger rarely played defense. When asked if he could cite a time he broke with his party, he suggested that "we swung too far" in the 1990s in passing mandatory minimums. Gillespie was only caught short when Todd asked him to respond – for the first time – to the Supreme Court's decision that effectively undid the state's gay marriage ban.
"I accept the ruling," said Gillespie. When Todd pointed out that Gillespie ran the RNC at a time when it strongly supported a Federal Marriage Amendment (a stance that remains in the national Republican platform), Gillespie insisted that he only had to answer for what he would do as a senator.
"I don't believe it's proper for the United States Senate to enact an anti-marriage amendment," said Gillespie.
"There are those who believe it is," said Todd.
It was a reminder of what Gillespie otherwise tried to elide. Virginia voters don't get an up/down vote on the Obama agenda. They get to decide whether to replace Mark Warner's vote with a Republican vote. Warner took advantage of that when Gillespie promoted the idea of making oral contraception available without a prescription, and blamed the Affordable Care Act for denying them "choice." The Democrat asked voters to remember the 2012 Republican push for transvaginal ultrasounds, an anti-abortion cause that backfired on the party.
"All of us in the business community," said Warner, "we don't like Virginia being ridiculed on late night shows."
He said this as if he was a businessman running for office for the first time, or as if he was in a position to blow the race. He's neither. It's been eight months since a fortuitously leaked internal poll suggested that Gillespie was only 6 points back. The current average of polls has Gillespie down by 11.
Before it's here, it's on the Bloomberg Terminal.
LEARN MORE