Local TV Stations Are Getting Force Fed Super PAC Cash
There's so much demand that one station has added an extra newscast to handle all the ads.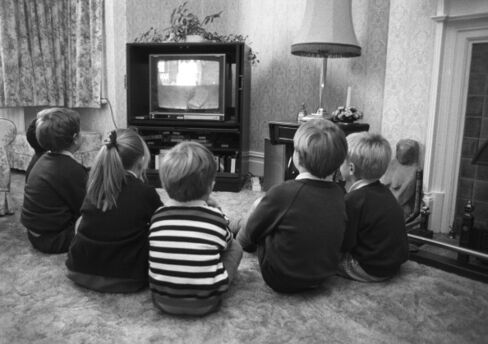 From Anchorage to Atlanta and Des Moines to Denver, voters are being pummeled by political advertising in states with competitive races for Congress and governorships. They break up "Wheel of Fortune" and punctuate the nightly local news. Viewers in Iowa and North Carolina put up with three commercials every five minutes, according to one report.
One group is happy: Station owners and managers. Tight races and the explosion of spending by super political action committees are paying off in huge ways.
"We've become the epicenter," said Dale Woods, president and general manager of WHO-TV in Des Moines, Iowa. "The intensity used to be after Labor Day. That process, this year, started in July and August."
The airwaves are so packed that Woods decided to add another hour-long newscast to his lineup — not because there's a ton of news in Des Moines, but because he knew he could sell the time. At rates that can easily top $1,000 a minute, it's a gold rush that ends abruptly Nov. 4.
"We're just being forced to take their money," said Nancy Johnson, general sales manager for KTUU-TV in Anchorage, Alaska. "The economics of broadcast TV stations aren't what they were a decade ago, so it helps to have an influx of capital."
Having a competitive race in the local market helps. But the other, newer driver of campaign advertising is the emergence of super PACs, which often have to pay the highest rate because they come in at the last minute with an ad buy, and because stations know they can afford to pay. By contrast, federal law mandates that individual campaigns get the cheapest rate possible.
WHO added its 4 p.m. newscast about a month ago, anticipating the final rush of fall political ads. That's an early start for local evening news and not matched by other stations in the market. The NBC affiliate controls the ads sold during the hour-long show, and reaps virtually all the revenue.
Through Sept. 29, WHO had run nearly 8,000 political ads so far this election cycle, much of it focused on Iowa's highly competitive U.S. Senate race between Republican Joni Ernst and Democrat Bruce Braley.
In Anchorage, KTUU is leading the pack. It has broadcast 9,672 midterm ads, more than any other U.S. station this election cycle, according to an analysis by Bloomberg Politics of data from Kantar Media's CMAG, a tracking firm.
Johnson predicted that her station will likely double its billings this year, though she wouldn't put a figure on it. Much of that, she said, will come from super PAC buys on her news broadcasts. The station hasn't added extra newscasts yet, but has a full hour at 6 p.m.

KTUU has 82 percent of the local news audience, one reason why her station has been especially popular for campaign ads, Johnson said. Political advertisers like local newscasts because the viewers tend to be voters with a deep interest in politics.
WHO ranks fourth in the number of total political spots run this cycle. Between it and the Anchorage station are WMUR in Manchester, N.H., and KATH in Juneau, Alaska. The common thread? Competitive races for the U.S. Senate, any one of which could decide whether the chamber goes Republican or stays Democratic.
"Des Moines basically has the trifecta: a hot Senate race drawing numerous outside groups, multiple hot House races, and a governor's race, which may not be competitive, but is seeing advertising just because we're four weeks out," said Elizabeth Wilner, a senior executive at Kantar Media.
During the last week of September, 15 entities ran midterm ads on WHO, ranging from Republican-aligned American Crossroads super PAC to the League of Conservation Voters to the U.S. Chamber of Commerce. And it shows no signs of slowing. American Crossroads plans to beef up its spending starting October 14, bringing its total Iowa investment to $4.5 million since July, according to spokesman Paul Lindsay.
Woods hopes his 4 p.m. newscast will live on. As soon as the midterms are over, Iowa will swing into the 2016 presidential cycle, and Woods envisions extended interviews with candidates, as well as opportunities for political advertisers to keep spending money.
"There probably will be 10 or more (presidential hopefuls), probably five or six from each party and an open race," the station manager said. "It will be a fairly active environment."
Stations with Most Midterm Ads (Jan. 1, 2013 - Sept. 29, 2014)
KTUU / Anchorage, Alaska / 9,672
WMUR / Manchester, New Hampshire / 9,425
KATH / Juneau, Alaska / 8,409
WHO / Des Moines, Iowa / 7,853
KTHV / Little Rock, Arkansas / 7,668
KFSM / Fort Smith, Arkansas / 7,475
KATV / Little Rock, Arkansas / 7,001
WSAZ / Huntington & Charleston, West Virginia / 6,826
KARK / Little Rock, Arkansas / 6,686
KCCI / Des Moines, Iowa / 6,674
WKYT / Lexington, Kentucky / 6,451
KWWL / Waterloo, Iowa / 6,319
KCRG / Cedar Rapids, Iowa / 6,230
WTOC / Savannah, Georgia / 6,161
WLEX / Lexington, Kentucky / 6,072
KUSA / Denver, Colorado / 5,796
KGAN / Cedar Rapids, Iowa / 5,302
KMGH / Denver, Colorado / 5,293
WAGA / Atlanta, Georgia / 5,264
WSAV / Savannah, Georgia / 5,230
Source: Bloomberg Politics analysis of Kantar Media's CMAG data
Before it's here, it's on the Bloomberg Terminal.
LEARN MORE