Kevin Spacey Has a Message for the New Majority Leader
"I just hope that he's able to bring the kind of sanity that the House desperately needs."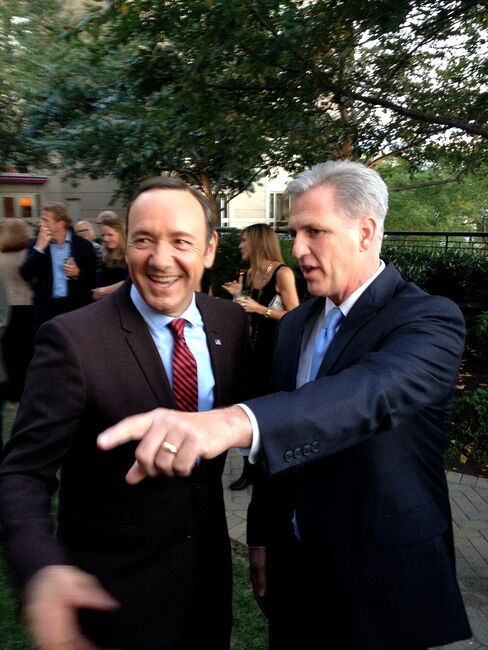 Kevin Spacey, whose role as Frank Underwood in the Netflix hit "House of Cards" showcases some the worst ways Washington operates, has a request for new Majority Leader Kevin McCarthy.

"I like him. I think he's a good man," Spacey, whose fame in Washington has reached a level held by only the elites in the city's establishment, said in an interview at an event for his foundation. "But I just hope that he's able to bring the kind of sanity that the House desperately needs."

McCarthy, a California Republican, has become somewhat of an outside consultant to Spacey throughout the filming of the show that takes a, shall we say, slightly exaggerated look at how the levers of power are really pulled in the nation's capitol.
Spacey declined to take credit for McCarthy's rise to majority leader, which occurred after Eric Cantor's stunning upset in his district's Republican primary, noting that McCarthy was already the youngest member of Congress to become majority whip, the third-ranked member of the chamber.
Still, he was willing to acknowledge that the show has become a bipartisan obsession in Washington, something his event underscored. House Minority Whip Steny Hoyer, a Maryland Democrat, was in attendance, shaking hands on the red carpet with McCarthy. As was Republican Representative Aaron Schock of Illinois and former Democratic Senator Chris Dodd, who is now the chairman of the Motion Picture Association of America.
"It's probably the power of Frank Underwood," Spacey said. "It has nothing to do with me. They're scared of crossing Frank."

While no lawmaker was willing to say they would go as far as Underwood to achieve their goals (murder seemed to be the main sticking point), Dodd was willing to admit that he could've used some of Underwood's tactics as he shepherded the passage of the 2010 Dodd-Frank financial reform law.

"Frank Underwood would've handled those bankers," Dodd said with a laugh. "He would not have tolerated those guys."
Spacey put on a one-man show for more than 700 at the Shakespeare Theater on Capitol Hill -- a performance that ranged from singing Frank Sinatra classics to Underwood imitations and just about everything in between.
There was bipartisan agreement that Spacey could put on one hell of a show, but there is still something that about his Capitol Hill supporters that irks the two-time Academy Award winner.

"Last year we had a dinner here and it was a different kind of evening -- it was the night they voted to shut down the government," Spacey said. "They all came and then the went and voted. Obviously I think they voted wrong."
Before it's here, it's on the Bloomberg Terminal.
LEARN MORE