How Maria Sharapova Became the World's Wealthiest Female Athlete
The tennis world's most famous No.2 will end her career on top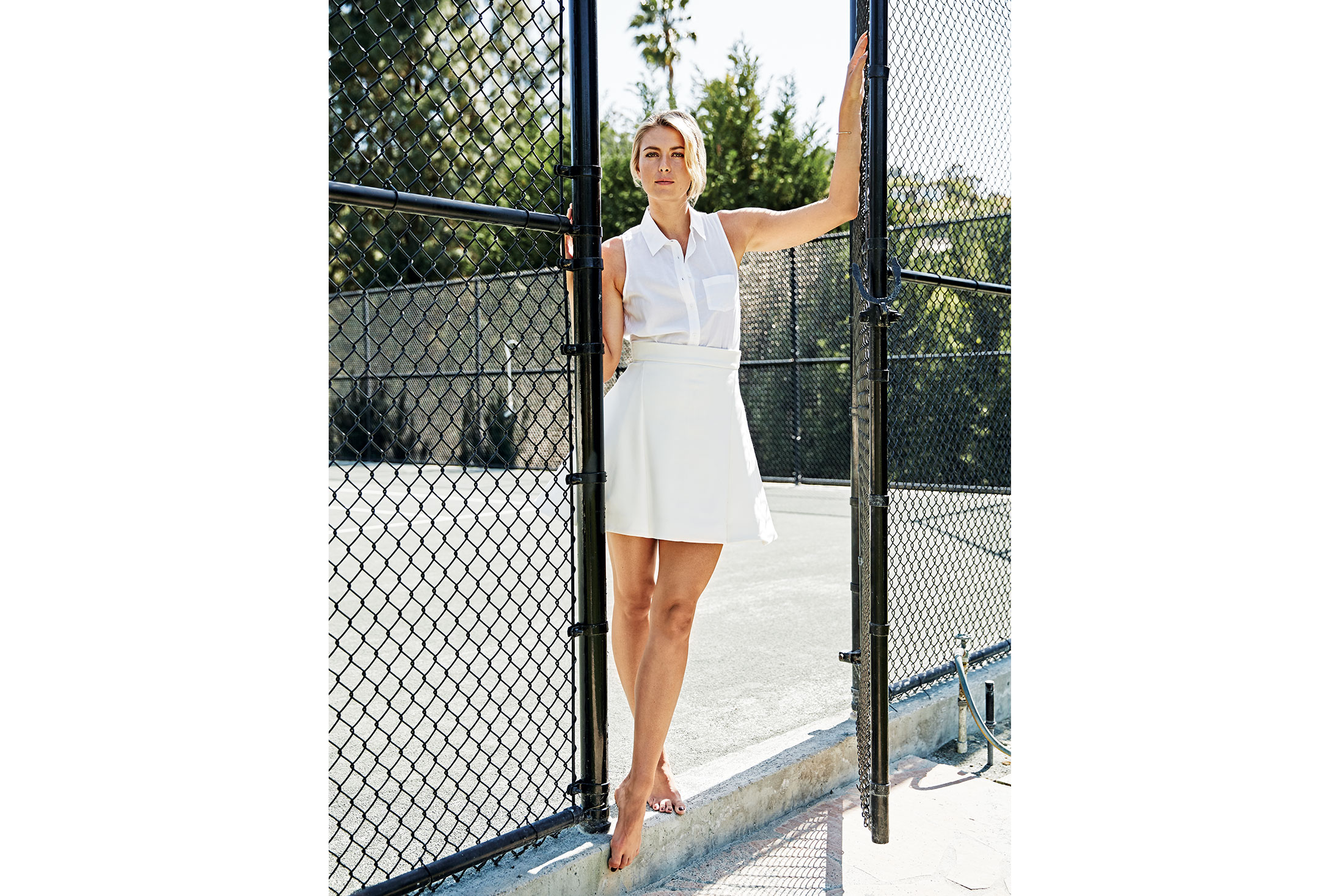 Photographer: Ture Lillegraven/Bloomberg Pursuits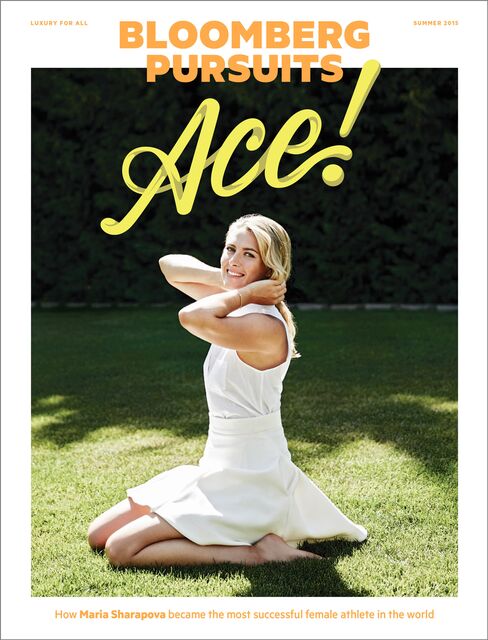 Maria Sharapova is in a pretty good mood for someone who might be about to lose a tournament. It's mid-March and she's just made the two-hour drive from her beachfront home in Los Angeles to the desert town of Indian Wells, Calif., the site of the BNP Paribas Open. The tournament is owned by Larry Ellison, the software mogul and seventh-richest person in the world. In the past five years, through $100 million of upgrades and the help of sponsors such as Rolex and Emirates Airline, he's turned it into one of the premier stops on the men's and women's tour.
"It's a bit more personal for me to come here," Sharapova, 28, says of Indian Wells. "I have a lot of friends and family who come to watch." The exception is her Pomeranian, Dolce, who stays at home because of the dry conditions. "It's not good for his hair."
At the prematch press conference, Sharapova, in black-and-white exercise pants and a billowy gray tank top, handles questions gracefully. She's held steady this year in the No. 2 spot in the women's rankings. Number Two. Few people in the history of the game have struck the ball as cleanly as she does from both sides of the court, and at 6 foot 2, she has the reach and athleticism to thrive on both hard and grass courts. And yet she's spent her career in the shadow of Serena Williams, the No. 1 player in the world—perhaps of all time. Williams, 33, has boycotted the Indian Wells tournament since 2001, after being booed relentlessly during the final, an incident that she and her family considered racially motivated. Now she's made her return, and the tournament's organizers, the media, and the spectators are falling all over themselves to make amends. Sharapova is playing Williams's understudy, again. As usual, she insists that it doesn't bother her. "You want to play against the best, and she is the best," Sharapova says of Williams.
Like Williams, who grew up playing tennis in Compton, Calif., Sharapova had a hard upbringing. Her parents fled to Nyagan in Siberia four months after the Chernobyl explosion, as radiation began to wash over their hometown of Gomel. During the next few years, Sharapova bounced around Russia. When she was just 6 years old, Martina Navratilova spotted her on a tennis court in the resort city of Sochi and recommended that the youngster gather her things and head off to the Nick Bollettieri academy in Florida. "The only thing I remember is packing up my books," Sharapova said in an ESPN documentary about her childhood. "I told my mom I wanted to make sure I have a piece of my country with me."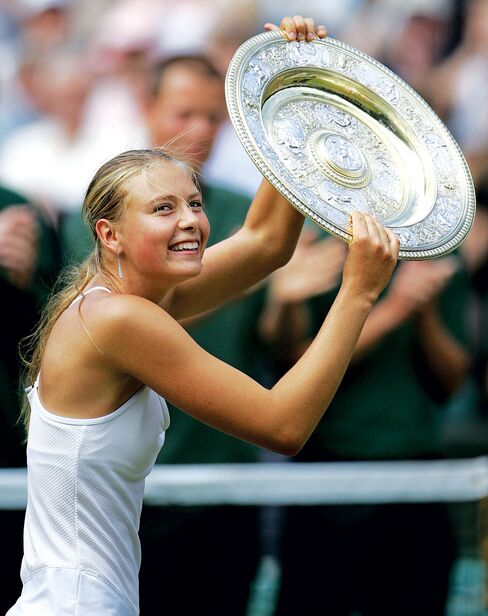 Her mother couldn't get a visa, so Sharapova and her father, Yuri, started their new life alone. During Sharapova's adolescence, her father worked several jobs at a time—doing construction, sweeping the floors in grocery stores—to try to pay the academy tuition. Because of his schedule, they rarely saw each other during the day, with Yuri leaving meals out for his daughter to warm up. "I spent a lot of time on my own," she told ESPN.
But their plan worked, and by the early 2000s, Sharapova was a sensation. She had the looks of Russian compatriot and onetime phenom Anna Kournikova, and an even better game. She also had a determination that Kournikova could never seem to muster. Sharapova crushed powerful line drives from the back of the court, emphasizing the authority of her shots with an exuberant grunt. At just 17, she beat Williams in the 2004 Wimbledon final. A U.S. Open title followed soon thereafter. She's since won the Australian Open once and the French Open twice, bringing her total Grand Slam wins to five.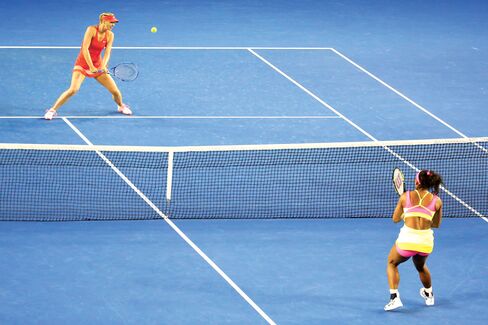 It seemed almost certain that Sharapova and Williams would end up archenemies, trading major opens in the style of John McEnroe and Björn Borg or Chris Evert and Martina Navratilova. But Sharapova beat Williams in their next faceoff and then never again. Their head-to-head record is 17-2 in Williams's favor, with Sharapova losing their last 16 meetings. The lopsided run is partly a result of a series of major shoulder injuries Sharapova had in the mid-2000s that weakened her once spectacular serve. This left her without the weapon she needed to gain an early edge in matches, to maintain momentum in the middle, and to rescue her when she was down. "Yes, I haven't won against her many times, but if I'm getting to the stage of competing against someone like Serena, I'm doing something well," she said after losing to Williams in this year's Australian Open final. "I'm setting up a chance to try to beat her, and it hasn't happened. I'm not going to go home without giving it another chance. That's just not who I am and not what I was raised to be. I'm a competitor."
Although Williams is older, Sharapova is racing not necessarily against her competitor, but against her own body. In April she injured her leg, causing her to pull out of Russia's Fed Cup team, and many are wondering when she might retire. Williams, by contrast, continues to break records. With 19 career Grand Slam titles, she's tied for the third most of all time. She's recently had the second-longest winning streak of her career, with 27 in a row. If she keeps it up, Williams could snag every major title this season.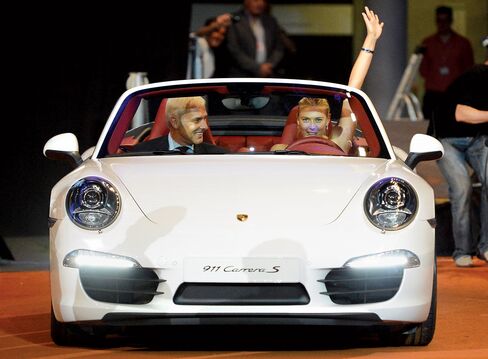 Second place has its consolations, though, especially if you are tall and blond. Sharapova is the highest-paid female athlete in the world, according to Forbes data, and she's topped the list for the past decade. She made $22 million from endorsements in 2014, including an eight-year, $70 million deal with Nike, a five-year contract with Evian, and deals with Cole Haan, Tag Heuer, and other brands. Williams, who also has a deal with Nike, as well as one with Gatorade, lags behind by more than $10 million each year.
While a tennis player may grow up in Compton or in the shadow of a nuclear meltdown, somehow the game maintains an aura of pearls and polo horses, and luxury brands love it. The sport's audience is not as big as that of soccer or basketball, but it's just as global—and vastly richer. At the BNP Paribas Open, almost 90 percent of attendees are college graduates, and 70 percent of them have household incomes in excess of $100,000. At the US Open, the average household income of fans is $156,000. "Tennis, like horse riding, golf, or sailing, is associated by the wider public with glamour, wealth, and savoir-faire," says Luca Solca, an analyst with Exane BNP Paribas who specializes in the luxury sector.
Not long after Indian Wells—she was upset in the fourth round by Italian player Flavia Pennetta—Sharapova's in Florida for the Miami Open, at a cocktail party sponsored by Volkswagen's Porsche. The occasion is her second year as the company's global brand ambassador, and she arrives in a black Panamera, a kind of sports sedan, driven by her agent, Max Eisenbud of IMG, who's represented her since she was 12. Getting out, Sharapova towers over Eisenbud, a 41-year-old from New Jersey.
Sharapova touches the car affectionately for the photographers. She looks like a model at an auto show, but Viktoria Wohlrapp, a senior marketing manager for Porsche, says that's not why they hired her. Porsche is the most profitable auto brand in the world, but 85 percent of its customers are men. The company has been plotting how to sell more cars to women for years, and management says it hopes that having a prominent female athlete associated with the brand might help correct the gender imbalance. So it signed Sharapova to a three-year deal.
In a floral dress and bright yellow high heels, Sharapova is starting to sweat. "Get her a tissue," Eisenbud quietly instructs a PR person. Sharapova discreetly dabs her chin and cheeks. A few minutes later, her promotional duties finished, she says she was a Porsche fan long before the company hired her. "I love the feeling of being in a sports vehicle," she says. "I know it's quite rare for a woman, but it's such a powerful feeling." A week later, with some unexpected downtime—thanks to a second-round loss to Australian Daria Gavrilova—Sharapova tweets a photo from behind the wheel of a Porsche (#girlstrip, #horsepower) to her 1.58 million followers.
Can Sharapova actually sell cars? "That's very hard to say," Wohlrapp admits. "But for us, it's an image thing. It was very important to find someone who matches the brand, and we feel like Maria and Porsche is a good thing." Harvard Business School professor Anita Elberse, who wrote a case study in 2010 about the building of Brand Sharapova, has found that a celebrity endorsement can boost a company's bottom line by as much as 4 percent. With a brand like Nike, the Sharapova effect is relatively easy to measure: The company sells a line of Sharapova tennis apparel (designed by her), and the demand for those items is an indication of the value she creates. With watches and cars, it's harder to gauge the impact. But Elberse says that luxury brands are deriving tangible benefits from sponsorship deals: "These companies wouldn't be doing it if they didn't see some value."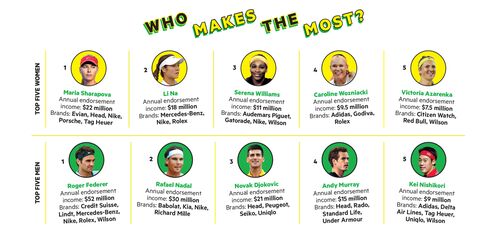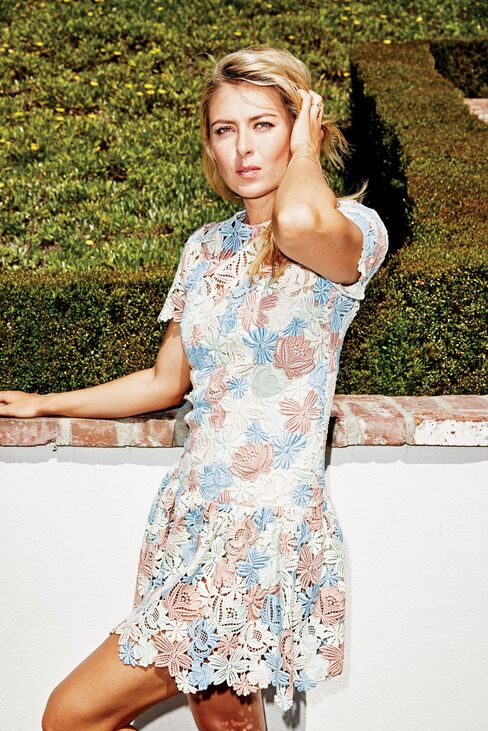 In 2012, Sharapova started Sugarpova, which makes candy gummy lips and tennis ball chewing gum, and has since branched out into clothing and fashion accessories. She spent $500,000 of her own money to fund the company, which sold 30,000 bags of candy online in its first six months. "I love [tennis], but I don't see myself going into the commentary booth," she says. "Except for when my boyfriend plays"— rising Bulgarian player Grigor Dimitrov, whom she's been dating since 2013— "I don't remember when I actually sat and watched a whole match on television."
But Sharapova isn't ready to give up on the game. She maintains an intense training schedule during the offseason and still manages to make it to the final rounds of most tournaments. Those endless losses to Williams might have destroyed the confidence of anyone else, but Sharapova continues to chase her better half. "I think Maria is playing well," Williams said at a news conference on May 7, after the two reached the semifinals of the Madrid Open (neither made it to the final).
After every point, whether she's won or lost, Sharapova does the same thing. She walks back behind the baseline, faces the stands, adjusts her strings, then flips around to the net like a soldier coming to attention. She makes a fist as a subtle grimace travels across her face. Then she tosses the ball to serve and starts all over again.
UPDATE: Corrects a previous version of this article that reversed the counts of Australian and French Open wins. In addition, Sharapova's hometown and where she fled to after the Chernobyl incident were revised.