Is This the Most Remote and Exotic Safari in the World?
Tracking pumas, one of the earth's most elusive creatures, in southernmost Chile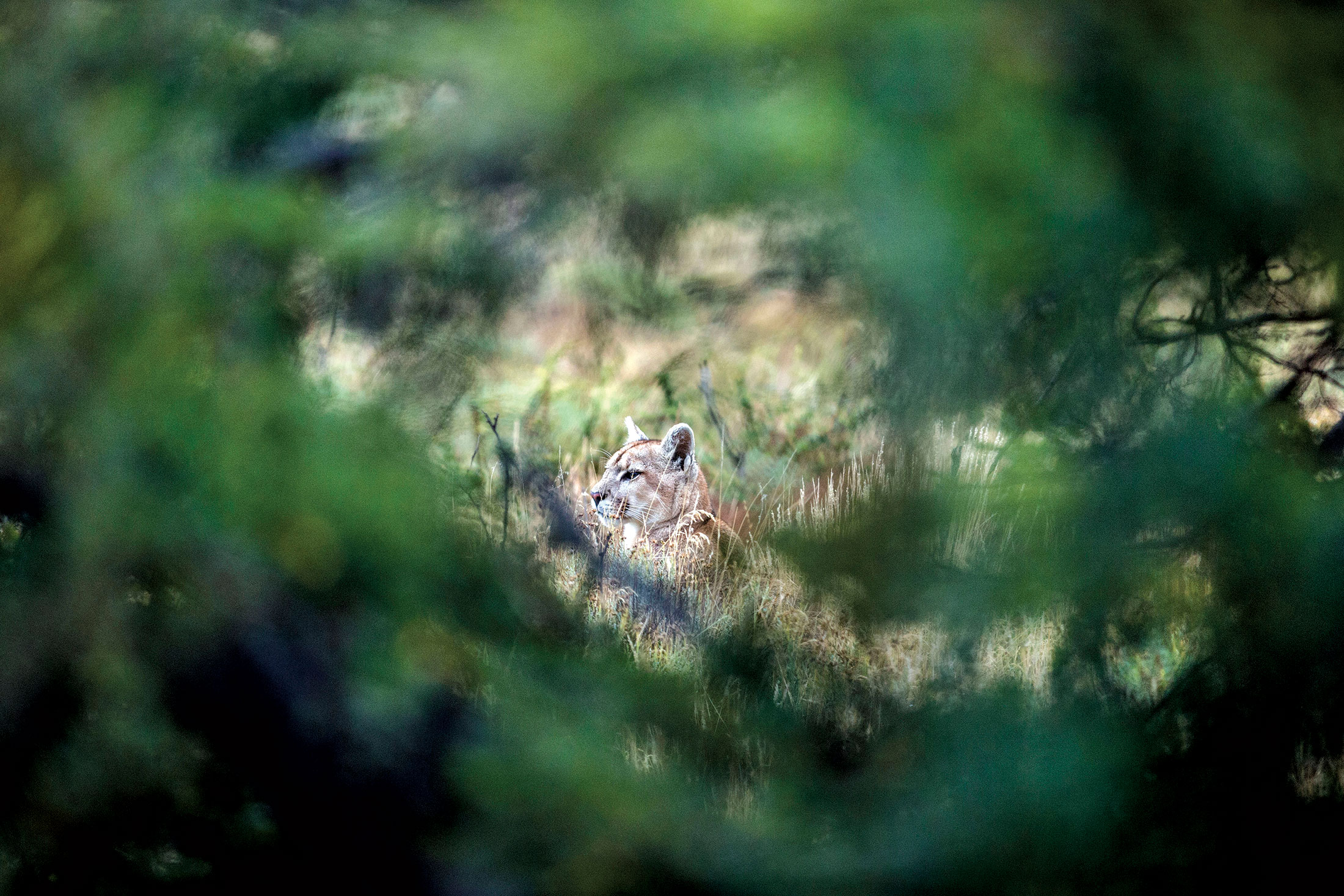 Photographer: Benjamin Lowy/Bloomberg Pursuits
Tribes across the Americas have given it many names—mountain lion, cougar, panther. In South America, it's called puma, the Incan word for powerful and strong. Pumas can jump 18 feet in the air and run as fast as 50 miles per hour. They kill their prey, mostly deer, by jumping onto the animal's back and biting through its neck. Pumas are the farthest-ranging animals in the Western Hemisphere, living from the top of Alaska to the southern tip of Chile, where we are now, in Torres del Paine National Park, known for its snow-topped mountains and milky aquamarine lakes. The landscape is so stunning it seems unreal. As we drive up, our photographer, Ben, says, "This looks like Mordor."
Pumas are solitary and shy by nature, and finding one in the wild without the help of a professional guide is almost impossible. Our tracker, Jorge, spotted a young female this morning, so now we're crouched on a hill dotted with prickly, yellow-green scrub. The cat is lying 30 yards away in the grass. The two triangles of her ears emerge from the high, swaying blades. Her black snout rises on occasion to sniff the air. This is the second puma we've seen in two days. Yesterday, I saw one walking by the side of the road. "It's right there!" I said, not believing that something so wild could be so close. As I fumbled for my camera, the animal slipped into the bushes. All I caught were her undulating haunches as she disappeared.
The park service employees have named this puma Mocho ("chopped"), because she's tailless. If Mocho cares that we're watching her with binoculars and taking pictures, she keeps it to herself. She has something else on her mind. You can see it in her stance—low, crouched, alert. Her eyes are trained on a half-dozen guanacos about 50 yards away. One has strayed from the herd; pumas are always looking for such an opportunity.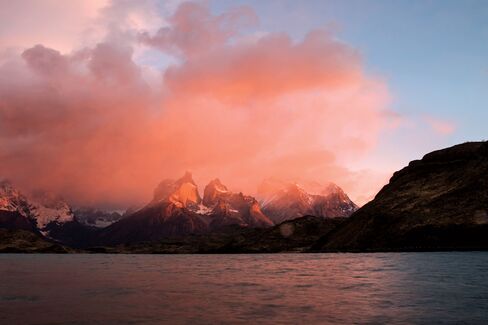 Photographer: Benjamin Lowy/Bloomberg Pursuits
The guanacos cover the park. Ancestors to the llama, they have shaggy, brown manes and long, thin necks and move with the gentle dullard quality of deer. Because pumas stalk their prey at night and in the twilight hours, seeing one kill a guanaco is rare. In the mid-1990s, wildlife cinematographer Hugh Miles spent two years filming a puma in Torres del Paine for National Geographic Video and never once saw such a showdown. The park has transformed in the decades since his visit. Ecotourism has arrived, bringing five-star hotels and a budding photo safari industry, and the pumas here have grown more accustomed to humans.
Mocho is making her move. Her muscular legs slink over the grass like a low, rolling wave. A moment like this announces itself in your limbic system. As Mocho slithers closer, the guanaco still blissfully unaware, we hold our breath.
"Is this really going to happen?" Jorge whispers.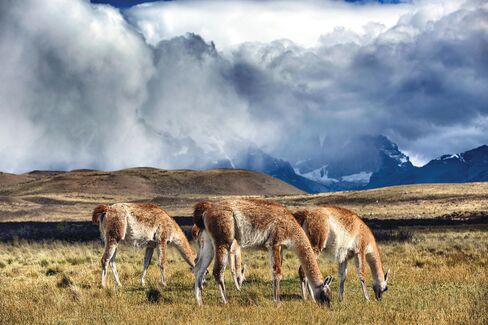 It's a long way to the fin del mundo—the end of the world—as the bottom of Chile is sometimes called. Three planes and 20 hours. It's hard to believe you can travel this long and inch forward only two hours between time zones. But I disembark in a very different place. The archipelago Tierra del Fuego can be seen from shore. Hundreds of Magellanic penguins (named for the explorer) are a ferry ride away on an island where visitors can walk along the shore, watching the birds snuggle in their nests and waddle on the wet sand like cartoon characters.
The car ride to Torres del Paine is a bumpy five hours through Patagonia, and on the way we see foxes, sheep, ibises, Andean condors, and an ostrichlike bird called Darwin's rhea. At least 30 Chilean flamingos flock in a nearby lake, as though someone has unloaded a truck bed of lawn ornaments. "Will you write down the kilometer marker for that?" asks Charles Munn from the driver's seat.
Munn is the man behind SouthWild, a South American ecotourism company that specializes in responsible encounters with animals. A conservation biologist trained at Princeton and Oxford, Munn spent 16 years doing field research for the New York Zoological Society before deciding that all the research in the world could not save a habitat. The key was to harness economic forces to push back against the damage. "Humans are going to destroy everything," he says. "The only things we're not going to destroy are things we love and things that create business."
Munn now leads wildlife expeditions for those in search of a less ordinary adventure. Using the model of the photo safari, long a staple of African tourism, he brings people into exotic environments where they can see creatures usually found only in zoos—giant anteaters, tool-using capuchin monkeys, and pink dolphins swimming in the Amazon. His jaguar tours in the Brazilian Pantanal have helped turn the little-known wetlands into a bucket-list locale. His clients are heart surgeons and businessmen who want to play National Geographic photographer for a week, to taste danger without ever really being in it.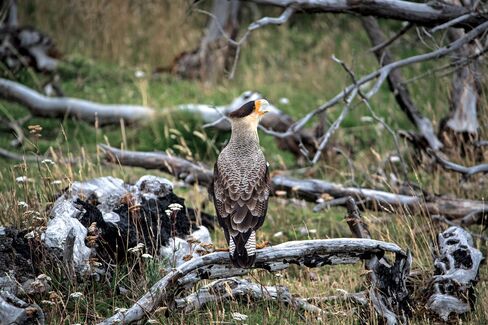 Munn pulls the car over so we can take pictures on the side of the unpaved road. I train my camera on a Darwin's rhea as it passes. "I wish that fence wasn't in the picture," Munn says as he surveys the land. He likes to provide clients with vistas that suggest no humans exist. He wants them to get that "trophy photo," as he calls it, the portrait you hang in your living room to make visitors jealous.
Such isolation is getting harder to find, but unspoiled horizons abound in Patagonia. Cell phone service is spotty or nonexistent. Gales frequently blow at 45 mph to 60 mph—at one point when I get out of the car, a strong gust almost rips off the door.
Munn, who learned about the pumas from photographer Joe McDonald, has been offering his own big-cat tours since 2011. He's constantly seeking new animals to showcase. At night he stays up using Google Earth to take virtual trips down remote tributaries of the Amazon. He understands the dopamine bump from entering a new world. As zoos teeter out of public favor and Ringling Bros. and SeaWorld battle public-relations fiascoes, Munn offers an elevated form of wildlife appreciation: Bring the people to the animals.
It isn't as dangerous as it sounds. Although Web searches for "mountain lion attack" and "cougar attack" yield eye-popping tales—joggers bloodied on a trail in California, a couple surprised in Montana—in the past century only 20 humans have been killed in North America by pumas. Fewer than dogs, fewer than lightning. The pumas we saw didn't consider us threats, and they had no reason to attack.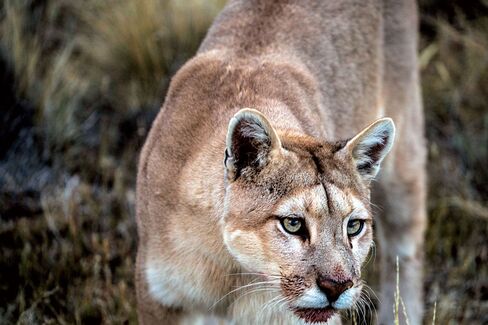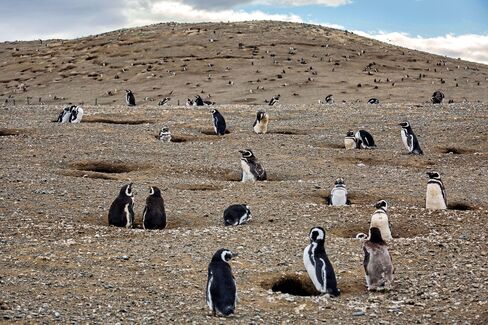 Mocho doesn't kill her target this afternoon on the hill. The guanaco spots her just in time to flee, making a bleating sound to alert the herd. Afterward, we sit about 20 feet from her as she licks her paws and rolls in the grass. She stretches one paw in the air. Ten minutes later, she stretches out a leg. It's puma burlesque.
Time spent in the outdoors has a way of forcing you to pay attention to the patterns that have been around you all along. Animals, seasons, winds. "If people have a peak experience in nature, even hardhearted people will be more invested in protecting it," Munn says. "It becomes a life-changing experience."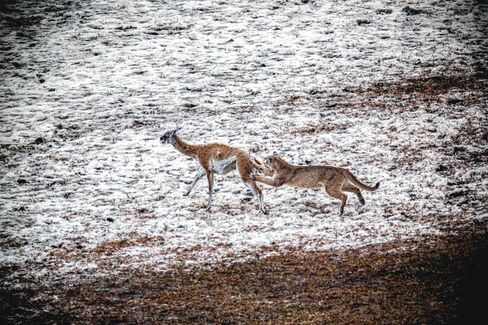 But the puma adventure is not without its detractors. On the third day of our expedition, the park announces it will curb puma tracking for an indefinite period; tours must stick to the roads and a few designated trails. Resentment has been growing among the area tour guides, many of whom don't get equal access, and park officials want to place the whole spectacle on hold until they can better regulate it. Munn says he isn't worried. He recently signed a deal with a pair of sheep ranchers, brothers who realized that keeping the pumas alive might be more lucrative than shooting them. (Pumas pose the biggest risk to sheep, and while killing the animals is illegal, it's still done.) He has exclusive access to their private puma park—17,000 acres of former ranch, full of the same guanacos and pumas that can be found in the adjacent national park.
Munn also faces criticism that his business hurts the puma. Westerners have become hypersensitive to the ways our footprints have muddied the globe, and few phrases can trigger controversy like "treatment of animals."
When I spoke with a manager at a nearby luxury hotel, Tierra Patagonia, she said they no longer offer puma tracking because it persecutes the cat. Munn, who was with me, was polite during this conversation, but afterward he couldn't contain his frustration. "That just shows how little they know about the animal," he says. "We read the animal. You can see when they're angry. You watch the ears, watch the tail. Tracking them at night and shining a light in their faces—that would be persecuting them. Sitting on the hill yesterday with Mocho, did you think you were bothering her?"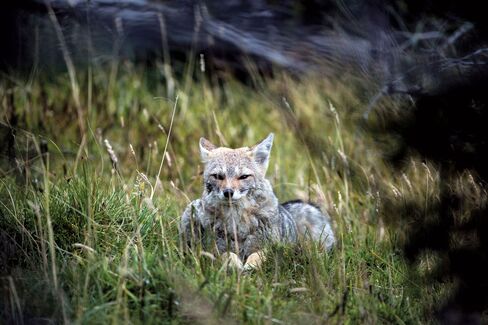 No. But I mention a different day, when we nudged into the bushes to find two large cubs, and I heard one of them mewling for their mother. Sitting there with my notepad and my camera around my neck, I did feel like we were intruding. We hadn't cornered them, and there were open hills behind for them to flee to. But the moment gave me pause, and Munn is disturbed when I tell him about it. He wasn't with us at the time and was never told the cub had been mewling. "The animals come first, always," he says. He'll repeat the story many times to his employees to figure out what happened and how to not let it happen again.
The next morning we go to a high cliff dwelling in the private puma park, where we find Mocho's sister, Hermanita, lying on a rock. And then we wait, an integral part of the puma-tracking experience. We live in a day-to-day world of instant gratification—now, now, now. Moving along with an animal requires patience. False starts, dead ends, thwarted missions. You spend the hours reading the earth and sky. You settle in to the slow drip of the day.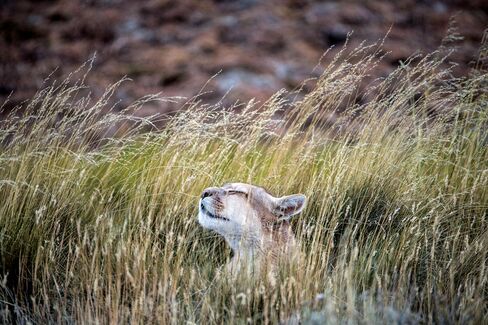 Photographer: Benjamin Lowy/Bloomberg Pursuits
Hermanita has already killed two baby guanacos today, but she's studying another. Pumas are like professional assassins; they kill whenever they have the chance. She has one now.
She slips off the rock and heads toward a guanaco, and we clamber behind as far as we can on the edge of the cliff, bellies to stone as we watch. The guanaco is on the ground by the time we get a view, but it's only playing dead. It darts up and charges toward the middle of a dried lake bed cracked with mud. Hermanita is chugging right behind. For a moment it looks like they're about to have sex, as if the puma is mounting the guanaco. But this is the end of life, not the beginning. The puma's paws reach out for the long, thin neck and hurl the animal to the ground. Its legs kick helplessly. The guanaco is down, then up, then down again. The puma goes in with a suffocating neck bite, and the struggle is over.
The next morning, I sleep in while the guys venture into the hillsides once more. They're insatiable. I pass by a sweet, stray tabby curled up on a chair in the hallway and pet her soft scruff as she leans into me, purring. I walk back to my room, and she follows with the confidence of an animal who knows a mark. I give her entry, and when I climb into bed to type on my laptop, she curls up at my feet, warm and tiny and fluffy. SouthWild's 10-day puma tours start at $4,990, including lodging and meals.
Photographer: Benjamin Lowy/Bloomberg Pursuits
Four Other Animal-Specific Trips
Narwhals in Antarctica
See these rare unicorns of the sea through Mountain Travel Sobek's Arctic Circle safaris. Tours also include snorkeling with whales and kayaking with harp seals. From $12,355 per person for eight days, including air travel throughout the continent; mtsobek.com
Tigers in Northern India
AndBeyond has set itineraries, such as the Tiger & Jungle Safari in North India, which includes a mix of cultural sights in Delhi, Varanasi, and Agra, as well as tiger safaris in Kanha National Park and Bandhavgarh National Park. A 12-day, 11-night itinerary starts at $7,255 per person; andbeyond.com
Orangutans in Borneo, Indonesia
Live among the apes for a week in the Tanjung Puting National Park through British tour operator Steppes Discovery. From $3,765 per person for seven days; steppestravel.co.uk
Buffalo in Jackson Hole, Wyo.
Hotel Terra teams with wildlife guide Kurt Johnson on mountain safaris. He brings guests to scout buffalo, moose, and bighorn sheep. $130 per person for the day; hotelterrajacksonhole.com