Boeing 777X First Jet to Give Pilots Data With Finger Swipe
Rockwell Collins announces touchscreen technology's debut

CEO Ortberg seeks new deals as supplier adapts to mobile world
Pilots on Boeing Co.'s 777X jetliner will soon be able to use a swipe of the finger to plot a course around a threatening storm or check an engine's maintenance history.
The Chicago-based planemaker has chosen Rockwell Collins Inc. to provide the first touchscreen monitors to be installed in a commercial airplane, the supplier said Wednesday in a statement. When Boeing's largest twin-engine plane debuts in 2020, pilots will call up flight data on the jet's five displays with a pinch-to-zoom motion -- much like Apple Inc.'s iPad has brought a world of information to consumers.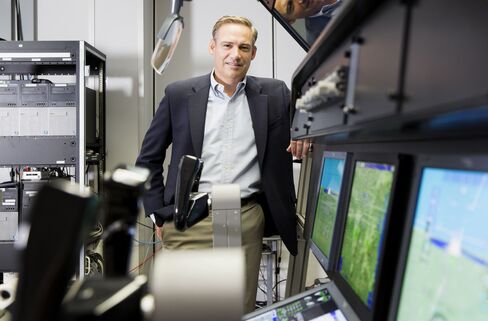 Rockwell Collins is counting on the screens and the data flowing through them to boost sales and improve pilots' situational awareness as modern airplanes turn into flying file servers. The touchscreens are also designed to make flight displays more intuitive while shaving weight from airframes.
"Airplanes were one of the last places that were disconnected, but no longer," Rockwell Collins Chief Executive Officer Kelly Ortberg said in an interview last month. "It's happening to all of us in the mobile world. You could see it was going to sweep our world as well."
Contract Payoff
Rockwell Collins advanced 0.5 percent to $82.43 at 1:27 p.m. in New York. Shares dropped 11 percent this year through Tuesday as tepid business-jet sales and a slow rebound in government spending held back earnings.
The aerospace manufacturer is counting on a late-decade payoff from contract wins to install large flight displays and other electronic systems on Boeing's next-generation aircraft, from the 787 Dreamliner to the 737 Max. Honeywell International Inc., Thales SA and Garmin Ltd. are also competing for supremacy to bring new innovations to pilots' fingertips.
They face a common rival in the iPad itself and ecosystems of developers catering to recreational pilots. ForeFlight, for example, has developed maps and "synthetic vision" to help steer around hazardous terrain with a tap of an Apple or Android tablet hooked into a plane's GPS and ADS-B tracking systems.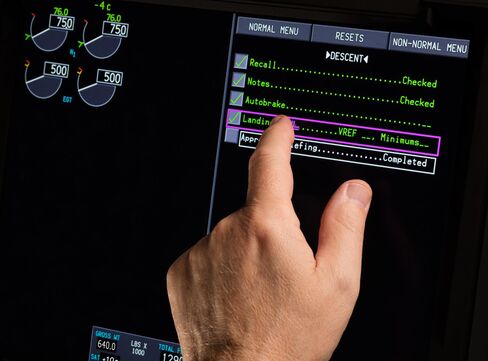 A Rockwell Collins plant in Iowa's corn and soybean country is poised to become the world leader in making touchscreen displays to replace traditional dials on planes from manufacturers such as Airbus Group SE, Bombardier Inc. and Embraer SA. By 2021, the facility will produce nearly half the cockpit monitors made globally, up from the current 35 percent, because of a contract to supply Boeing's 737 Max.
Digital Strategy
The new Rockwell Collins products are the culmination of a strategy plotted by then-CEO Clay Jones and Ortberg early last decade, when smartphones and tablets were in their infancy. Following a painful defense contract loss, the manufacturer adopted a flexible "open" architecture for its systems to win over customers like Boeing. Its $1.39 billion acquisition of Arinc Inc. in 2013, just 11 days after Ortberg became CEO, was the company's largest and provided new ways to pipe data into airplanes.
While Rockwell Collins is scouting smaller deals, Ortberg is open to another bold move as he charts a course toward a world of smart planes and connected pilots.
"If another Arinc came along, I'd love to be in a position to do that," he said. "We're keeping our credit rating at investment grade so we have the financial capability to do that."
Before it's here, it's on the Bloomberg Terminal.
LEARN MORE