FBI Check of NYC Bombing Suspect Found No Terrorist Ties in '14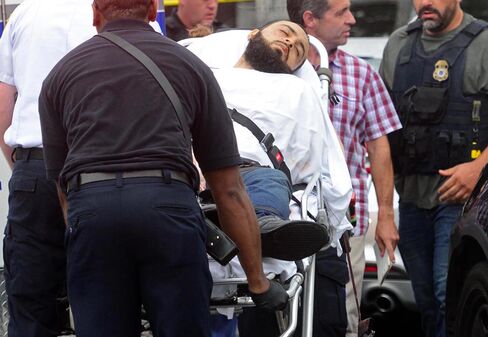 Agency says interviews, database checks revealed no links

Father called Rahami a terrorist, then recanted, official says
Suspected New York bomber Ahmad Khan Rahami came across the FBI's radar after a domestic incident two years ago, but the agency says it didn't find grounds to pursue an investigation.
"In August 2014, the FBI initiated an assessment of Ahmad Rahami based upon comments made by his father after a domestic dispute that were subsequently reported to authorities," the agency said Tuesday in an e-mailed statement. "The FBI conducted internal database reviews, interagency checks, and multiple interviews, none of which revealed ties to terrorism."
Rahami was flagged in the FBI's Guardian system, a general database of tips and reports of suspicious activity, after he was arrested in the domestic incident and his father called him a terrorist, according to a U.S. law enforcement official who spoke on condition of anonymity because of the continuing investigation into the bombs set off in Manhattan and in New Jersey.
The father was interviewed twice by the FBI, recanting in the second session his claim that his son was a terrorist and saying instead that he was hanging out with bad people, the official said. The father's changing story was reported earlier Tuesday by the New York Times. The younger Rahami was never interviewed by the FBI, the official said.
Potential Terrorists
The disclosure is likely to renew a debate over the adequacy of law enforcement monitoring of potential terrorist suspects. The FBI faced criticism earlier this year in the case of Omar Mateen, who carried out a deadly shooting rampage at a Florida nightclub in June.
Mateen, who was killed by police during the attack, also had been flagged beforehand in the Guardian system. In Mateen's case, the FBI did open a preliminary investigation that lasted 10 months but then closed it for lack of evidence.
"We don't keep people under investigation indefinitely," FBI Director James Comey told reporters in June, defending the bureau's handling of Mateen in response to criticism.
Rahami was arrested Monday following a shootout with police in New Jersey. Investigators haven't discovered a link between Rahami and any terrorist groups or evidence of any accomplices, although such connections haven't yet been ruled out, the law enforcement official said.
Rahami was arrested in 2014 on weapons and aggravated assault charges for allegedly stabbing a relative in the leg in the domestic incident, according to court documents cited by the New York Times. He spent more than three months in jail on the charges, according to a law enforcement official cited by the Times. A grand jury, however, declined to indict Rahami.
Before it's here, it's on the Bloomberg Terminal.
LEARN MORE