Sika Investors See Gains Amid Saint-Gobain Takeover Fight: Chart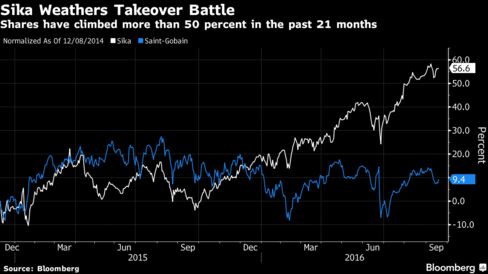 As Sika AG investors gather in Zurich on Tuesday, they can take solace in the fact that the protracted fight over the Swiss building-materials maker hasn't hurt their bottom line. Shares have increased some 57 percent since Sika's founding family struck a deal in December 2014 to sell their 16 percent stake -- which controls more than half the voting rights -- to French rival Cie. de Saint-Gobain SA for 2.75 billion francs ($2.8 billion). In the same period, Saint-Gobain only rose 9 percent.
Before it's here, it's on the Bloomberg Terminal.
LEARN MORE