QuickTake Q&A: Brexit Puts Financial Clearing Work Up for Grabs
Barely a day had passed following Britain's vote to leave the European Union when officials from Europe began to lay claim to a key part of London's financial industry. The location of clearinghouses for trades done in euros has emerged as one of the first flash points in the looming divorce talks between the U.K. and the EU. French and German politicians agree the business could be taken from London, with Paris or Frankfurt being mentioned as possible new homes. But don't count London out just yet.
1. What is clearing?
Traders in stocks, bonds, commodities and derivatives rely on clearing to complete their transactions safely. Clearinghouses such as those that call London home act as intermediaries between buyer and seller, requiring traders to post collateral -- cash or bonds -- as a cushion against losses and potential defaults. After the 2008 financial crisis, regulators around the world pushed for more derivatives trading to go through clearinghouses. Clearing firms collect fees on transactions.
2. Why is clearing important to London?
About 75 percent of trading in euro-denominated interest-rate swaps, a major type of derivative, takes place in the U.K., versus 13 percent in France and 2 percent in Germany, according to Bank for International Settlements data from April 2016. London's clearinghouses process trades worth $574 billion on an average day, provide about 700 jobs and support a vast legal industry in London for derivatives trading and oversight of collateral. The world's largest clearinghouse for rate swaps, LCH, is based in London and is majority-owned by London Stock Exchange Group Plc.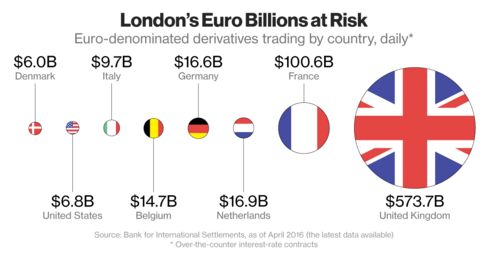 3. What got us here?
Even before the Brexit vote, the European Central Bank had its eye on requiring euro trades to be cleared in the euro area -- meaning, not in London. The central bank's campaign went all the way to the EU's top court, which ruled against it. That decision reinforced London's status as Europe's financial hub.
4. What happens next?
Clearing is unlikely to be relocated anytime soon. It could take years for the U.K. and the EU to negotiate their split. Also, the EU court ruling said the ECB doesn't have the competence to regulate securities clearing. Gaining that ability might require action by EU member states.
The Reference Shelf
Sign up to receive the Brexit Bulletin, a daily briefing on the biggest news related to Britain's departure from the EU.
Before it's here, it's on the Bloomberg Terminal.
LEARN MORE