Cash Squeeze Across GCC Banks Lifts Loan Ratio Above 100%: Chart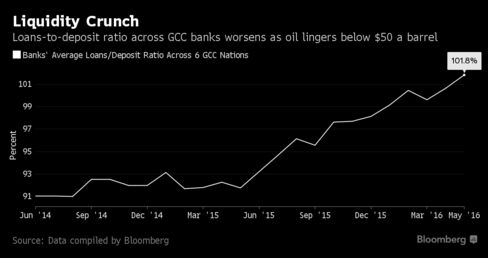 Oil's plunge has hurt government revenue, slowed banks' deposit growth and tightened cash holdings across the six-nation Gulf Cooperation Council's financial industry. The average loans-to-deposit ratio for GCC lenders, a key measure of liquidity, exceeded 100 percent this year for the first time since the price of crude began its more than 50 percent slide in 2014, according to data compiled by Bloomberg. The ratio worsened to 101.8 percent in May, the last month data is available from all six Gulf countries.
Before it's here, it's on the Bloomberg Terminal.
LEARN MORE