Slide contrasts with bets N.Z. cash rate premium to shrink

Nomura, ANZ advising clients to buy Aussie versus kiwi
It looks like one of them has to be wrong. As Australian dollar bears bash the currency towards a record low of parity against its New Zealand counterpart, swaps traders are betting the interest-rate premium for the kiwi over the Aussie will shrink.
The Reserve Bank of New Zealand is seen as likely to cut its cash rate more aggressively than the Australian central bank in money markets that are pricing in a 44 basis point premium in the next six months, down from 50 now. At the start of this year, traders had seen the gap expanding to 72 basis points within 12 months. Yet, the Aussie has fallen more than 3 percent this year, prompting Nomura Holdings Inc. to predict a reversal.
"There appears to be an unusual divergence between Australian and New Zealand short-end interest rates and the Aussie-kiwi cross," said Andrew Ticehurst, a strategist at Nomura in Sydney, "We believe the currency cross is too low, and this is one of our preferred foreign-exchange trade ideas over the balance of the year." Nomura is advising clients to buy the Aussie versus the kiwi.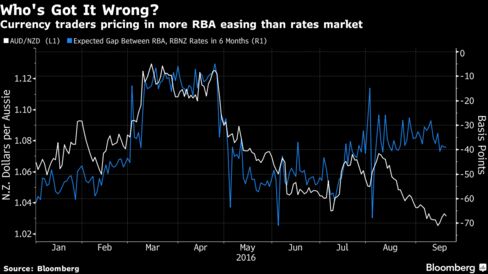 The two currencies have never converged since they were freely floated in the mid-1980s. They came close in April last year when the Aussie fell below NZ$1.01, only for the Australian dollar to rebound to a nearly 20-month high by June 2015. The kiwi is flirting with parity once again -- touching a more than one-year peak of NZ$1.0238 per Aussie on Sept. 14 amid rising dairy prices, surging immigration and stronger economic data.
The Aussie fell 0.2 percent to NZ$1.0312 as of 12:21 p.m. in Sydney on Tuesday.
Economic Split
New Zealand's economy, among the strongest in the developed world, expanded 3.6 percent in the second quarter from a year earlier. That's the fastest annual pace in two years as construction boomed and manufacturing revived. Whole milk powder prices have rebounded 75 percent from a more than a decade low touched last year, according Fonterra GlobalDairyTrade auction data. While Australia's economy expanded 3.3 percent in the second quarter, the fastest annual pace in four years, it has struggled to generate the sort of job or wage gains seen across the Tasman Sea.
The factors that have spurred the kiwi have given it a "relative image upgrade," though their ability to boost the kiwi further are limited, said Daniel Been, Sydney-based head of foreign-exchange research at Australia & New Zealand Banking Group Ltd.
Sentiment Driven
"We think we are at levels that present value, and continue to recommend that corporates or investors with a medium-term horizon begin to accumulate the Aussie," he said. "However, on a tactical basis we are not ready to become outright bullish on a spot basis. Sentiment looks to be one of the primary drivers of the cross and while that is the case, overshoots are still possible."
Swaps are pricing in an even chance that the RBNZ will reduce its benchmark by the end of the year, while the probability of a RBA cut in the same period stands at 26 percent, according data compiled by Bloomberg.
"The RBNZ has explicitly signaled another cut while the Reserve Bank of Australia hasn't and as a result markets are pricing in a certain chance of a New Zealand rate reduction by early 2017, and for Australia it is under half," said Imre Speizer, a market strategist at Westpac Banking Corp. in Wellington. "If both these expectations play out then the Aussie-kiwi cross should rise. However, in the near term there remains some uncertainty about these events and that, along with the continuing run of good economic news in New Zealand will keep downward pressure on the cross."
Before it's here, it's on the Bloomberg Terminal.
LEARN MORE