Nigeria Still Can't Get a Grip on Its Black Market: Chart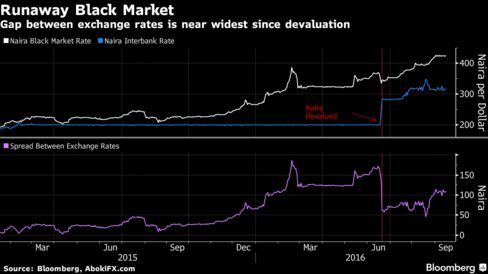 Nigeria's still struggling to tame its black market exchange rate, even after a devaluation in June. While the naira has fallen almost 40 percent to 315 against the dollar since central bank Governor Godwin Emefiele allowed the currency to float, it hasn't caught up with the unofficial rate. The wide gap's being driven by dollar shortages as investors stay away from a country heading for its first full-year recession since 1991 and as militant attacks keep oil production near a three-decade low.
Before it's here, it's on the Bloomberg Terminal.
LEARN MORE