Mexican Billionaires Lose $1.4 Billion Thanks to Trump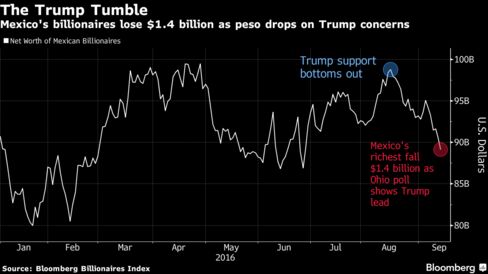 Mexico's richest people are losing money as Donald Trump is gaining ground. The seven Mexicans among the world's 400 richest people lost a combined $1.4 billion Wednesday, according to the Bloomberg Billionaires Index, the same day a Bloomberg Politics poll showed the billionaire presidential candidate leading Democratic rival Hillary Clinton by five percentage points in the battleground state of Ohio. The Republican candidate has vowed to end or overhaul Nafta and "compel" Mexico to pay for a border wall, leading the peso into declines whenever his election outlook improves.
Before it's here, it's on the Bloomberg Terminal.
LEARN MORE