Luxury Travel
Adelson Spreads Bets Wider as Tycoon Opens Parisian in Macau
$2.9 billion casino resort debuts Tuesday targeting tourists

Shift to mass market helped Macau rebound from two-year slump
Sheldon Adelson wants to spread his bets wider by seeking investment opportunities from Asia to Europe, after the casino billionaire doubles down on Macau with the opening of Las Vegas Sands Corp.'s $2.9 billion resort.
"We're aggressively and continually lobbying for other locations throughout the Asia Pacific countries -- we've been looking at Japan, Korea, Vietnam, Thailand," Adelson said Tuesday, at the opening of the Parisian in Macau. "There doesn't seem to be too much more growth here," he said, referring to the Chinese city.
Adelson is highly exposed to Macau, the world's largest gambling hub that's contributed about two-thirds of annual revenue over the past decade. The 83-year-old gaming tycoon has been seeking to diversify in Asia with casinos in Japan, including by lobbying for the long-delayed legalization for the industry to be sped up. Sands had also wanted to build a casino resort in South Korea's capital Seoul.
Even as Macau saw the first glimmer of a recovery from a 26-month casino revenue slump where high-end players avoided the city amid China's crackdown on corruption, some questioned whether the growth can be sustained, including rival gaming billionaire Lui Che-Woo, chairman of Galaxy Entertainment Group Ltd.
Europe Vegas
"We have some ideas for additional growth here in Macau, but not any major integrated resorts like the opening of Parisian today," said Adelson. "I do look at Europe, to build a Europe Vegas, but we couldn't negotiate the kind of terms we needed."
Back in 2013, Adelson had said he was considering building integrated resorts in major European cities, after abandoning a plan for a $30 billion mega-resort in Spain. Gambling liberalization has also proceeded slowly elsewhere in Asia, including Vietnam where Prime Minister Nguyen Xuan Phuc has called for rules to limit casinos even as his government tries to boost tourism.
Ahead of the Parisian's opening, Las Vegas Sands and its Macau unit Sands China Ltd. have both surged about 30 percent so far this year through Monday, outperforming their peers' 18 percent rise according to Bloomberg Intelligence's Macau gaming index. Sands China fell 2 percent to HK$33.75 at the close of Hong Kong trading Tuesday while Las Vegas Sands shares dropped 0.5 percent to $56.63 at 10:06 a.m. in New York.
Read Bloomberg Intelligence's take on how Macau is mirroring Las Vegas
The Parisian resort features a half-size replica of France's iconic Eiffel Tower, a glitzy shopping mall, a water theme park and other family-friendly facilities. With the project, the 83-year-old billionaire is continuing with his model of mixing Las Vegas-inspired entertainment and leisure with gambling, as the Chinese city attempts to evolve from a gritty destination focused on high-stakes gamblers from mainland China.
"We have fairly high expectations for Parisian to be the most likely property to grow the market," said Union Gaming Group LLC analyst Grant Govertsen. "Sands China does a better job than the peers in delivering what mass-market consumers wants, and Parisian should hit a sweet spot given the Chinese affinity for Europe in general, and Paris specifically."
Targeting mainstream players, with families and children in tow, is one of Adelson's forte. The Las Vegas tycoon's foray into Macau began with the opening of the Venetian in 2007, and Sands China has since grown to be the market leader in the mass-market gambling segment, which has been less hurt by Beijing's crackdown.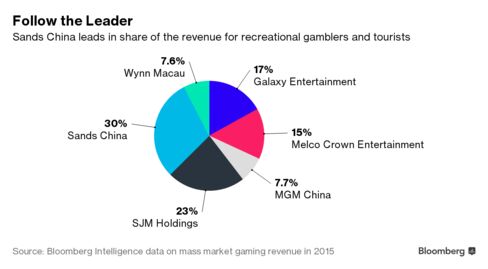 With 3,000 guest rooms and suites, the Parisian plans to attract families with a themed water park, a kids play area modeled after France's Luxembourg Gardens and a shopping mall with artists and street performers.
While Sands China is heeding the government's call to tone down on catering to hard-core VIP players, its newest project will need to cope with fewer new gambling tables than some competitors. Macau's gaming regulator this month authorized 150 new tables for the casino, including 100 for opening day, compared with the 250 that Galaxy and Melco Crown Entertainment Ltd. each received for new projects last year.
The city's casino industry "has hit the bottom," Adelson said. "Now if it's sustainable for a long-term pick up, I can't answer this question."
Before it's here, it's on the Bloomberg Terminal.
LEARN MORE