Foreign Holdings of Aussie Debt Shrink as Burden Grows: Chart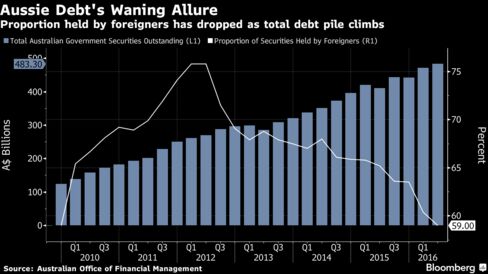 Just when the Australian debt pile is scaling record highs, foreign appetite for the securities is tapering off. The proportion of Australian government notes and bonds owned by non-residents dropped to 59 percent as of June, a level last seen in December 2009, according to data from the Australian Office of Financial Management. The percentage of foreign ownership has fallen for eight consecutive quarters and demand at Australia's bond sales in 2016 has slid to the lowest level in 14 years.
Before it's here, it's on the Bloomberg Terminal.
LEARN MORE