Enbridge's Spectra Bid Is Canada's Biggest Corporate Deal: Chart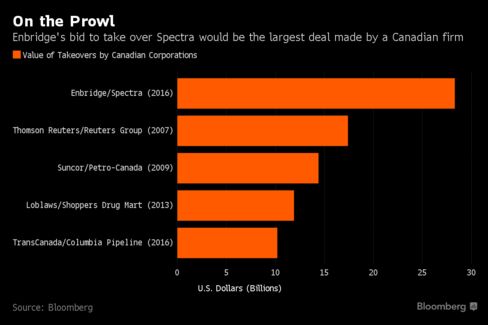 Enbridge Inc.'s proposed takeover of pipeline rival Spectra Energy Corp. isn't just a big deal for the energy sector -- it's the largest transaction ever for a Canadian company. The $28 billion stock deal eclipses Thomson's purchase of Reuters Group Plc in 2007 and Suncor Inc.'s take over of Petro-Canada in 2009, according to data compiled by Bloomberg. The figures are in U.S. dollars and don't include debt. Add in the merger talks between Potash Corp. of Saskatchewan Inc. and Agrium Inc. -- which may yield a $13 billion transaction -- and it's clear the pace of mega-deals in Canada is heating up as summer wanes.
Before it's here, it's on the Bloomberg Terminal.
LEARN MORE