Ten Years On, Aussie Back Where It Was on Stevens' Debut: Chart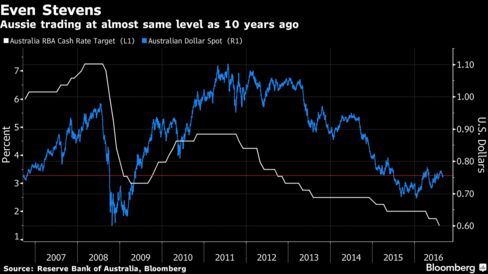 Outgoing Reserve Bank of Australia Governor Glenn Stevens, who today presides over his last board meeting, will be remembered for taking the policy rate to record lows. His long-term impact on the Australian dollar has been rather less dramatic -- it's trading at almost the same level as it was when he took office on Sept. 18, 2006. Then, one Australian dollar was worth 75.58 U.S. cents and today it's at 75.86 U.S. cents.
Before it's here, it's on the Bloomberg Terminal.
LEARN MORE