Japanese Bank Stocks Soar as Bond Yields Start to Climb: Chart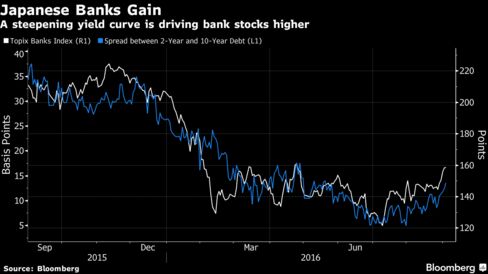 The Topix Banks Index has jumped 30 percent since early July, tracking a widening yield spread between Japan's 10-year government bonds and two-year debt. Lending rates could be higher with long-term yields climbing, while the funding costs for banks, such as the interest paid on deposits or commercial paper, remain low, said Yasutoshi Nagai, chief market economist at Daiwa Securities. Some investors expect the Bank of Japan to lower its benchmark rate this month and reduce purchases of super long-term bonds, leading to an even steeper yield curve, he said in an interview on Friday.
Before it's here, it's on the Bloomberg Terminal.
LEARN MORE