Americans Trade Golf Clubs for Paddles as New Sports Grow: Chart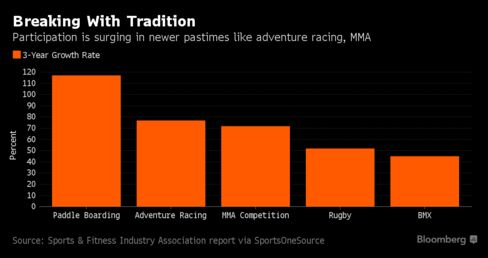 Americans are flocking to sports like paddle boarding and mixed martial arts, while participation is falling in traditional endeavors such as golf, bowling and running, according to a report by the Sports & Fitness Industry Association. But upstart sports are starting from a small base of participants. Among the fastest-growing categories, paddle boarding had the most participants last year at 3 million. That was followed by adventure racing -- think Tough Mudder and Warrior Dash events -- which attracted 2.8 million. Running, bowling and golf, meanwhile, totaled 119 million.
Before it's here, it's on the Bloomberg Terminal.
LEARN MORE