U.K. Bank Rally Sends Values to 4-Year High Versus Europe: Chart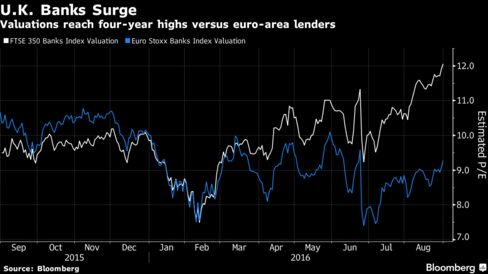 The biggest monthly surge in British lenders since 2010 took their valuations to a four-year high relative to euro-area peers. Since the country's June referendum on European Union membership, a weakening pound has helped the FTSE 350 Banks Index gain 5.6 percent, while the Euro Stoxx Banks Index has lost 6.4 percent. HSBC Holdings Plc closed at a one-year peak on Wednesday, while Standard Chartered Plc trades near its highest price since November.
Before it's here, it's on the Bloomberg Terminal.
LEARN MORE