Singapore Wages Outpacing GDP May Restrain MAS Policy: Chart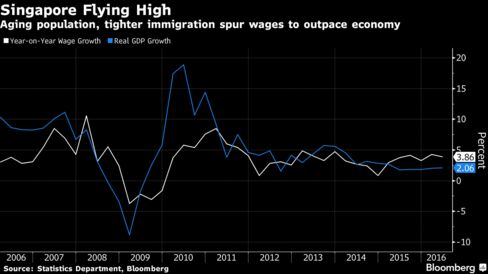 Nominal wages in Singapore have been rising faster than real gross domestic product since the first quarter of 2015. An aging population and tight labor supply due to stricter immigration policy are behind the divergence, Euben Paracuelles, a Singapore-based economist at Nomura, said yesterday, adding that job market conditions are deviating from the central bank's assessment in April. Nomura expects the central bank to maintain its currency policy in October. The Monetary Authority of Singapore unexpectedly eased in April, citing a projected slowdown in wage growth due to softer employment conditions.
Before it's here, it's on the Bloomberg Terminal.
LEARN MORE