Time for Wal-Mart to Cut the Cord on Asda Grocery Chain: Chart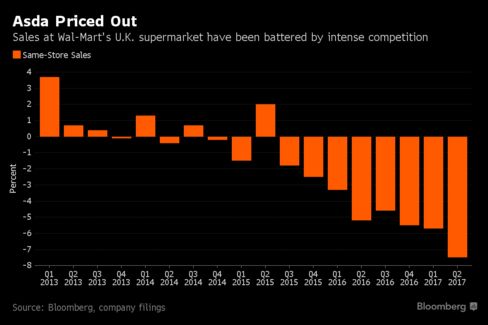 If a private-equity buyer could be found, a sale of Wal-Mart Stores Inc.'s Asda would make sense, writes Bloomberg Gadfly's Andrea Felsted and Chris Hughes. The rise of German no-frills supermarkets has put the screws to the U.K. grocery sector, and Asda has been particularly hard hit: the chain posted a record decline in sales in the second quarter. And while selling is the probably the last thing on new Chief Executive Officer Sean Clarke's mind, fixing Asda will take a long time, time that might be better spent on pursuing a disposal or a sale and leaseback of its property in partnership with a real estate specialist.
Before it's here, it's on the Bloomberg Terminal.
LEARN MORE