Venezuelan Car Sales Have Declined 99% From Record-High: Chart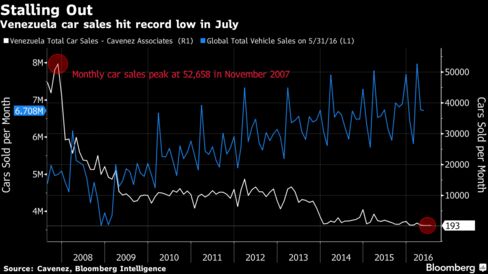 Venezuela sold 193 vehicles, including cars, trucks and buses, in the month of July, the lowest number since the data has been tracked going back to 1998, auto chamber Camara Automotriz de Venezuela, or Cavenez, reported Wednesday. That's about 0.6 cars per 100,000 people in Venezuela, compared to about 475 cars for the same number in the U.S. The International Monetary Fund forecasts that Venezuela's economy will shrink 10 percent in 2016, its third straight annual contraction, as the price of oil, which account for about 95 percent of foreign currency earnings, has declined more that 50 percent in two years.
Before it's here, it's on the Bloomberg Terminal.
LEARN MORE