Mongolian Tugrik Meltdown Seen Cooling Down Myanmar Kyat: Chart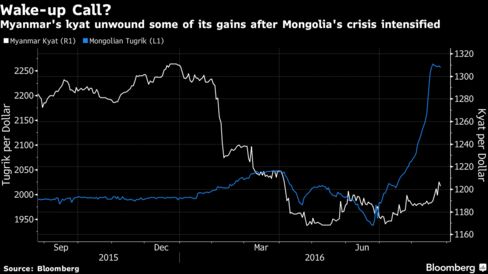 The freefall in Mongolia's exchange rate may be cooling down the Myanmar kyat, which had been the world's best-performing exotic currency this year until the tugrik started its epic 14 percent slide to a record low. The crisis that saw Mongolia's new government struggle to pay salaries is a "wake-up call" for investors to be cautious about Myanmar, says Hirofumi Suzuki, an economist at Sumitomo Mitsui Banking Corp. in Singapore. The two countries -- one to China's north, the other to the south -- have wide current-account deficits and are dependent on exporting commodities to their giant neighbor.
Before it's here, it's on the Bloomberg Terminal.
LEARN MORE