Stabilizing currency reserves suggest rate cuts can wait

Money-market costs near 5-year low indicate liquidity is ample
China's central bank has avoided broad-based stimulus for almost six months, the longest pause since it resumed an easing cycle in early 2015. While peers in the EU, the U.K. and Asia have slashed rates, the People's Bank of China has left one of its biggest policy tools, the required reserve ratio, untouched. Meanwhile, domestic calls for easing have been rebuffed.
Here are three charts showing why, and what it might take for Chinese policy makers to resume cutting the key rate.
Foreign-Exchange Reserves Are Stabilizing
The PBOC's foreign exchange reserves have steadied since March at around $3.2 trillion, halting a two-year drop. Over the past decade, they have closely tracked the RRR. If reserves remain stable and capital outflows stay modest, the PBOC may feel less compelled to cut the RRR for the sake of liquidity.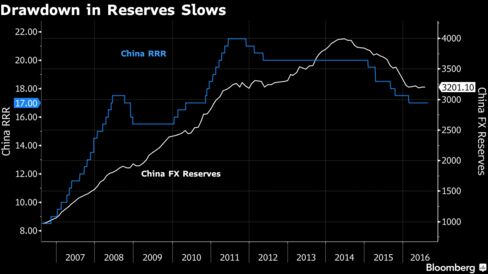 Factory-Gate Inflation Breaks Four-Year Downtrend
Since the global financial crisis, the PBOC has cut the RRR in three rounds, each time while while the producer price index was falling. In 2016, the PPI has rebounded to its highest level in almost a year, signaling slower deflation. As long as price pressures are moving in the right direction, the PBOC has one less reason to ease.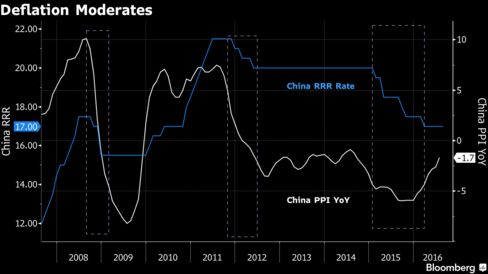 Money Market Rates Drop to Near Five-Year Low
Three-month Shibor, a key money-market rate, is at 2.8%. That's about half the levels seen in late 2011 and early 2015, when the PBOC began easing in earnest. With liquidity expanding this year, there may be less urgency for the central bank to loosen policy. "The economy doesn't need more long-term liquidity now, as it would likely be used for high-risk loans," says Iris Pang, senior Greater China economist at Natixis. "That, combined with improving factory inflation, helps explain why the PBOC has left policy largely unchanged."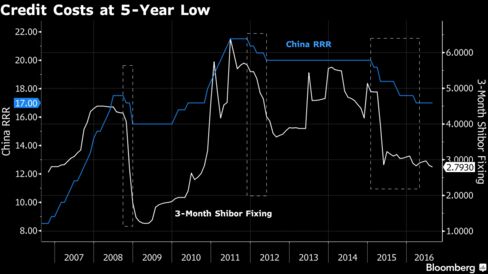 — With assistance by Jimmy Zhu
Before it's here, it's on the Bloomberg Terminal.
LEARN MORE