Investors Buy Most Saudi CDS in 5 Years Before Bond Sale: Chart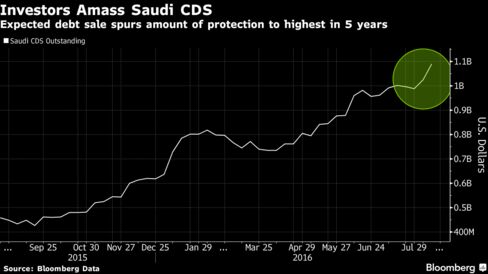 Investors are buying the most amount of protection against a Saudi Arabian debt default in at least five years before the kingdom taps the international bond market, according to data compiled by Bloomberg. The net amount of outstanding credit-default swap contracts has climbed to $1.1 billion, according to data from the Depository Trust & Clearing Corp. CDS for the kingdom, which may sell bonds as soon as next month, have quadrupled over the last two years from about 40 basis points to about 160 basis points amid an oil-price slump.
Before it's here, it's on the Bloomberg Terminal.
LEARN MORE