Fed Hawks Cries Fall on Deaf Ears as Treasury Yields Low: Chart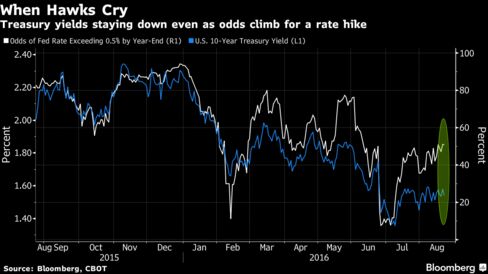 Investors in U.S. Treasuries show few signs of concern that the Federal Reserve is moving closer to raising benchmark interest rates, even after Fed Vice President Stanley Fischer on Sunday became the latest central bank official to flag that a hike by year-end was under consideration. While his comments may have helped the chances of tightening this year hold above 50 percent, the bond market is looking less convinced. After all, they've seen this movie before -- policy makers have signaled time and time again that they want to raise interest rates, yet remain on hold after liftoff eight months ago.
Before it's here, it's on the Bloomberg Terminal.
LEARN MORE