U.S. Gas Breaks Five-Day Winning Streak on Cooler Weather View
U.S. natural gas futures snapped a five-day winning streak on forecasts for easing heat in the Midwest and South.
The weather will be mostly normal or cooler-than-average in the Midwest, Southwest and along the Gulf Coast through Sept. 2, according to Commodity Weather Group LLC. Houston's high may reach 89 degrees Fahrenheit (32 Celsius) on Aug. 22, 6 lower than usual, AccuWeather Inc. data show.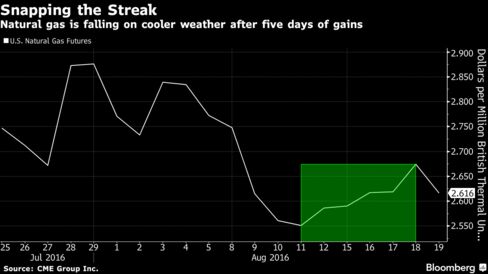 Falling temperatures over the next few weeks will limit gas demand from power plants, allowing stockpiles of the fuel to expand at a faster pace. While sweltering weather this summer has eroded the inventory glut, supplies remain on course to reach a record before the winter, capping price gains.
"The weather set-up going forward is showing cool nights and early fall conditions," said John Kilduff, a partner at Again Capital LLC in New York. "We have abundant amounts of gas in storage."
Gas futures fell 9 cents, or 3.4 percent, to settle at $2.584 per million British thermal units on the New York Mercantile Exchange. Prices were little changed for the week after rising for five straight days, the longest streak of gains since March.
Before it's here, it's on the Bloomberg Terminal.
LEARN MORE