Spanish Debt Beats Italian as Political Outlooks Diverge: Chart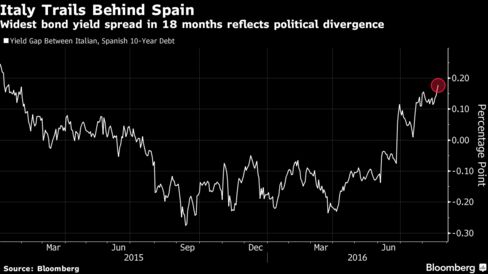 Spanish government bonds are beating their Italian equivalents as the nations' political fortunes diverge. Spain has moved closer to forming a government after acting Prime Minister Mariano Rajoy made progress in alliance talks, while Italy faces increased pressure on its banks and a fourth-quarter referendum that may cost Premier Matteo Renzi his job. The premium investors demand for holding Italian 10-year securities instead of similar-maturity Spanish debt has risen to the most in more than 18 months.
Before it's here, it's on the Bloomberg Terminal.
LEARN MORE