Russia's Wealthiest Person Outperforms Ukraine's Richest: Chart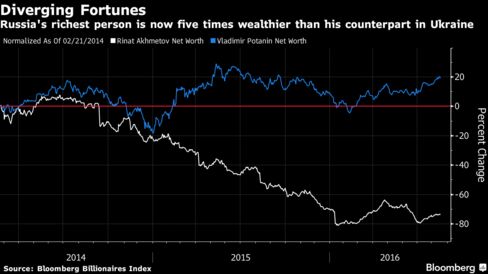 Since the crisis in Ukraine broke out in February 2014, the gap between the fortunes of the wealthiest people in Russia and Ukraine has widened. Russia's richest person, Vladimir Potanin, has seen his net worth rise almost 20 percent to $16 billion, while Rinat Akhmetov, who tops the list in Ukraine, saw his wealth drop 74 percent to $3.2 billion, according to the Bloomberg Billionaires Index.
Before it's here, it's on the Bloomberg Terminal.
LEARN MORE