Swedish Debt Office Open to Discussing Selling Longer Bonds
Swedish debt office is open to discussing issuing a government bond with a maturity of longer than 10 years if there's enough interest from investors, Director-General Hans Lindblad said.
"If there's demand we will also discuss that," Lindblad said in an interview in Stockholm Thursday. "At the end of the day it's a question of price."
The Swedish debt office, which last time issued a bond maturing in more than 10 years in 2012, two years ago abandoned plans to issue a new 30-year bond due to low demand.
According to Nordea Bank, global ultra-long bond yields have since plummeted by about 2 percentage points, prompting many countries to issue 50-year bonds and in some cases even 100-year bonds such as Belgium, Ireland and Mexico. Meanwhile, yields on many shorter maturity bonds have slid below zero amid unprecedented stimulus from central banks.
"Demand for duration has meant that a lot of countries have chosen to issue very long bonds with pretty low interest rates," said Mats Hyden, an analyst at Nordea. "In Sweden, there's no reason for domestic demand to rise but the fact that more or less all rates also in Sweden are negative apart from the longest durations raises the question if there is a somewhat bigger demand for really long bonds than a year ago."
Michael Grahn, an analyst at Danske Bank, said he doubts there will be demand for a longer maturity bond and that it hasn't heard about any interest from customers. The debt office will also likely have to revise down borrowing forecasts because of "quite a massive improvement" in tax revenue, he said.
The yield on Sweden's 10-year note slid to near zero this week and current yields are the lowest in more than 140 years, according to Nordea. The 10-year yielded 0.07 percent and the seven-year bond minus 0.27 percent as of 1:07 p.m. in Stockholm.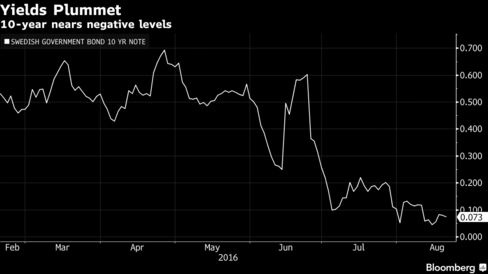 Yields have in part been pressed down by the Swedish central bank's bond-buying program, which is targeting more than a third of the market. With the bank buying so many bonds, concern have been raised about poor liquidity in the market.
According to Lindblad there have been no such signs yet in Sweden.
"We haven't seen any signs that the market in any way is dysfunctional," he said. "On the contrary, it functions very well."
Before it's here, it's on the Bloomberg Terminal.
LEARN MORE