Japan's Exports Haven't Climbed Back to 2008 Peak: Chart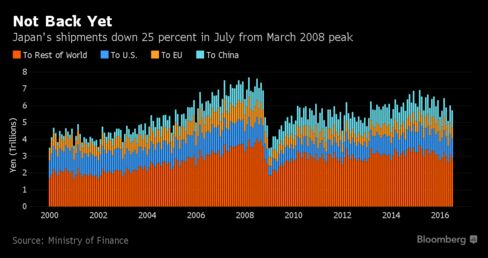 Japan's exports dropped 14 percent in July from a year earlier, for the worst result since 2009 and the 10th straight monthly decline. Weakness in overseas demand is cutting growth and undermining efforts to drag Japan out of its deflationary malaise. Even with several years of a weaker yen until 2016, shipments are still 25 percent lower than the 2008 peak.
Watch Next: Japan is Contributing to Global Export Weakness, Says Henry
Before it's here, it's on the Bloomberg Terminal.
LEARN MORE