India Soy Crop Seen Rebounding From Decade Low on Monsoon Boost
Rain increases soil moisture, aiding crop development: group

Higher acreage, favorable weather bearish for prices: Kotak
India's soybean output may rebound from an 11-year low as ample rain and sunshine boosts crop development, according to the Soybean Processors Association of India.
Production may top the 6.93 million metric tons harvested in 2015-16 if current favorable weather continues next month, Chairman Davish Jain said by phone from Indore. That was the smallest crop since 2004-05 as El Nino-induced dry weather parched crops, according to data from the association.
After a back-to-back monsoon shortfall, forecasts for the first above-normal rain since 2013 are prompting farmers to increase planting. The four-month deluge that starts in June waters more than 50 percent of India's farmland and the country is relying on the wetter weather to boost agricultural output and help contain food costs. Domestic soybean prices are already falling, with Mumbai futures dropping about 10 percent since the start of June.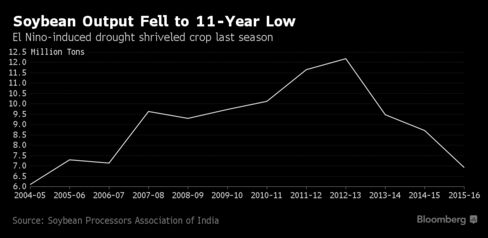 "Weather has been conducive during the past week and, if it continues, the crop will be better than last year," said Jain. "The subsoil moisture level is more than sufficient and what the crop needs is sunshine and clear weather."
Rainfall has been at least 20 percent above normal between June 1 and Aug. 16 in Madhya Pradesh and Maharashtra, which together account for more than 80 percent of the nation's soybean harvest. While rain may boost crops, farmers in the regions have been advised to drain excess water from already-sown crops to avoid water logging, according to India's Meteorological Department. Water logging has caused yellowing of leaves on crops including soybeans and pulses in Maharashtra, it said.
"I am bearish on prices," said Faiyaz Hudani, associate vice president for research at Kotak Commodity Services Ltd. "I think the prices will come down on the back of an expected higher acreage and good weather overall."
The area planted to soybeans totaled 11.24 million hectares (28 million acres) as of Aug. 12, from 11.19 million hectares a year earlier, the farm ministry said on Friday. Planting of all monsoon-sown oilseeds including peanuts climbed to 17.23 million hectares from 16.38 million hectares, it said. Heavy showers are expected in parts of Madhya Pradesh this week, according to India's Meteorological Department.
Before it's here, it's on the Bloomberg Terminal.
LEARN MORE