Bears Target Corrections Corp. of America Before Plunge: Chart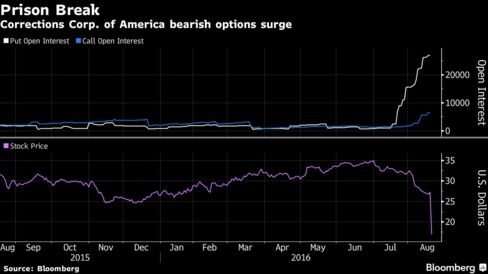 Options traders are cashing in after Corrections Corp. of America lost as much as half its value following the U.S. government's decision to curtail the use of private prisons. Investors pushed bearish bets on the real-estate investment trust to a three-year high, with large blocks of December $28 puts changing hands on several occasions in the last few weeks. The stock, which traded at $17.05 as of 2:10 p.m. in New York, is rated a hold by every analyst covering it tracked by Bloomberg, and has fallen in six of the past seven weeks.
Before it's here, it's on the Bloomberg Terminal.
LEARN MORE