U.S. Stocks Edge Higher as Fed Minutes Signal Rates to Stay Low
Fed officials agreed they need to see more data for rate move

Utilities surge the most in seven weeks while retailers slide
U.S. stocks edged higher as Federal Reserve meeting minutes quelled speculation that borrowing costs could rise as soon as next month.
The minutes showed officials were divided in July over the urgency to raise interest rates again, but they generally agreed to wait for more data before another move. Equities rebounded in afternoon trading, as utilities' strongest rally in seven weeks helped overcome disappointing results from Target Corp. and Lowe's Cos. that threatened to send stocks to their first back-to-back drop in two weeks.
The S&P 500 Index rose 0.2 percent to 2,182.22 at 4 p.m. in New York, after the gauge wiped out a 0.4 percent slide. The Dow Jones Industrial Average rose 21.92 points, or 0.1 percent, to 18,573.94, erasing an early 83-point drop. The Nasdaq Composite Index increased less than 0.1 percent. About 6.4 billion shares traded hands on U.S. exchanges, 7 percent below the three-month average.
"The knee-jerk reaction is still lower-for-longer," said Mark Luschini, chief investment strategist at Philadelphia-based Janney Montgomery Scott LLC, which manages $54 billion. "There were a couple innuendos that a few members thought we should be acting. But other language offered enough excuses for things taking place both domestically and globally to justify doing nothing for the time being. It seems like the Fed is finding reasons not to hike interest rates, and therefore it was a market-friendly release."
Officials said they needed more data "in order to gauge the underlying momentum in the labor market and economic activity," the minutes released in Washington said. Since the meeting, data has been mixed with hiring showing a sharp increase while retail sales stagnated in July. Producer prices contracted last month and consumer prices were flat, bolstering the argument that inflation remains subdued.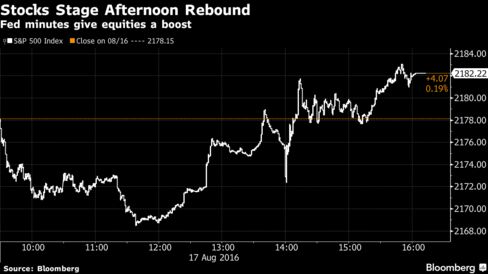 Equities rebounded as utilities, financial and consumer-staples stocks shook off earlier declines. Power company Dominion Resources Inc. gained 2.6 percent, the most in five months. Target and Lowe's each lost more than 5.6 percent, while Staples Inc. dropped 7.1 percent after its profit outlook was short of estimates. Cisco Systems Inc. sank 1.3 percent
before its earnings release, after a report said it will cut as many as 14,000 jobs. Urban Outfitters Inc. soared 16 percent after its results exceeded analysts' forecasts.
Shares fell from all-time highs Tuesday after New York Fed President William Dudley said the central bank could potentially raise interest rates as soon as next month. His warning that investors are underestimating the likelihood of higher borrowing costs took some momentum out of a six-week rally for stocks. Traders' bets for a rate increase were pushed back today, with February 2017 now the first month with at least even odds of such a move, versus December before the meeting minutes were released.
Equities climbed to fresh peaks in the month through Monday, boosted by better-than-estimated corporate results, an improving labor market and optimism central banks will stay supportive of growth. The gains have pushed the S&P 500's valuation relative to future earnings to the highest in more than a decade. The benchmark closed Wednesday up 6.8 percent in 2016, after rallying more than 19 percent from a 22-month low in February.
The earnings season is drawing to a close, with fewer than 40 of the S&P 500's companies yet to report. So far, 78 percent of the firms have beaten profit projections and 56 percent topped on sales. While results have exceeded predictions, analysts forecast index members will still post a 2.5 percent drop in net income, and estimate a 0.8 percent decline for the quarter ending in September. That would extend the slide in earnings to a sixth period, the longest since the financial crisis.
In Wednesday's trading, seven of the S&P 500's 10 main industries rose, with utilities surging 1.5 percent, the most since June 30, after erasing a 0.9 percent selloff. Financials, consumer staples and industrial stocks added at least 0.3 percent. Phone companies rose 0.2 percent after wiping out a 1 percent drop. Raw-materials, consumer discretionary and technology shares slipped. The CBOE Volatility Index fell 3.6 percent to 12.19, after reversing an 8.5 percent jump at midday.
Retailers fell for a third day, their longest losing streak in two months. Stronger-than-forecast earnings last week from Macy's Inc., Kohl's Corp. and Nordstrom Inc. had helped send the group to a record on Friday, before being dragged lower today as Target and Lowe's suffered their worst declines since at least May.
Target said sales of Apple Inc.'s iPods, iPhones and other devices fell 20 percent at its stores during the second quarter. Apple slipped as much as 1 percent before closing down 0.2 percent. Best Buy Co. dropped 2.9 percent, the most in six weeks.
Joining Apple and Cisco Systems to weigh on technology shares, Nvidia Corp. fell 2.3 percent to stretch declines to a third session, the longest in five months.
Before it's here, it's on the Bloomberg Terminal.
LEARN MORE