The Garibaldi Is The Perfect Summer Cocktail
All you need for the perfect summer cocktail is an orange, Campari, and about 10 seconds.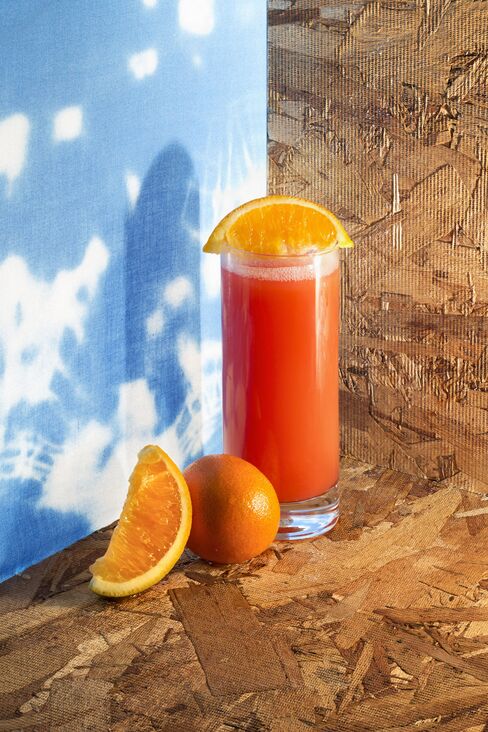 The No. 1 rule to whipping up a summer cocktail: It's got to be easy. No one wants to get up from the pool and fuss with bitters. This is why God gave us the gin and tonic and opposable thumbs for holding and opening a can of beer. The Garibaldi follows this edict, combining just two ingredients, orange juice and Campari.
It's a light, sweet-and-bitter pairing that's reasonably common in Italy (where Giuseppe Garibaldi was a founding father) but not in the U.S., though it's "about as refreshing as summer drinking gets," says Naren Young, co-owner and beverage director at Dante restaurant and bar in New York. Young's secret is "fluffy," aka aerated, OJ, which he achieves by juicing a peeled navel orange in a Breville Juice Fountain Elite (brevilleusa.com; $299.99). He pours the frothy juice and a 1.5-ounce jigger's worth of Campari over ice in a highball glass, stirs, and garnishes with an orange slice. Although no one will fault you if you don't have the energy for that last step.
One navel orange will yield about 3 oz. to 5 oz. of juice. Since the amount varies, the color of the finished drink will, too. Another reason it's an ideal summer beverage: No need for precision. Add or subtract an ounce of OJ, and it's still a brilliant partner for the Campari (stick to 1.5 oz. regardless of how much juice you get).
No juicer? No problem. Squeeze a navel orange, strain the seeds, and blend for 10 to 15 seconds. Caution: Don't use store-bought orange juice. Your Garibaldi will be unappealingly thick and cloyingly sweet.
Ingredients
1.5 oz. Campari
Juice of 1 navel orange
Ice
Add ice to a highball glass. Pour in 1.5 oz. of Campari. Squeeze the juice of 1 whole navel orange. Stir and serve.


Before it's here, it's on the Bloomberg Terminal.
LEARN MORE