Money Chasing Taiwan May See Reversal as Yield Edge Fades: Chart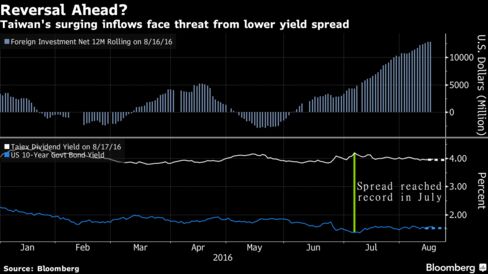 With political uncertainty subsiding, global investors have been pouring into Taiwan, attracted by high relative returns. The island's position as Asia's no. 1 spot for hot money may be coming to an end once interest rates rise in the U.S., driving up bond yields. Estimates compiled by Bloomberg show the yield advantage Taiwan stocks have over 10-year Treasuries may shrink by about 100 basis points from July's record by the end of next year.
Before it's here, it's on the Bloomberg Terminal.
LEARN MORE