The 100,000-Barrel Oil Output Increase That Didn't Really Happen
Weekly data adjusted to end 'disconnect' with monthly report

U.S. weekly oil production based on model except for Alaska
U.S. crude oil production is holding up better than the government previously thought.
The output estimate jumped by 152,000 barrels a day for last week, the biggest increase since May 2015, according to the Energy Information Administration. Production didn't actually increase by that amount but was modified to incorporate a "re-benchmarking" versus the agency's Petroleum Supply Monthly, according to Jonathan Cogan, an EIA spokesman.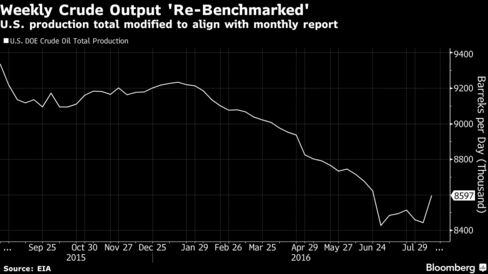 The weekly data could also be adjusted after the release of the agency's monthly Short-Term Energy Outlook. The next release is scheduled for Sept. 7, according to the EIA website.
"The weekly data is based on models, with the exception of Alaska," Cogan said. "When the monthly data or Short Term Energy Outlook differ from the weekly data, we re-benchmark"
Alaskan crude production rose by 52,000 barrels a day to 477,000 barrels in the week ended Aug. 12, the EIA said. Alaskan output has been erratic week to week the last two months amid maintenance work.
"I would caution anyone who takes the production number from one of our monthly reports and takes it as the beginning of a trend, and that's certainly the case with the weeklies," Cogan said.
Before it's here, it's on the Bloomberg Terminal.
LEARN MORE