Cathay Shares Drop as Profit Slumps 82% on Fuel Hedge Losses
Cathay's yields under pressure as Chinese carriers expand

Airline didn't benefit fully from global drop in oil prices
Cathay Pacific Airways Ltd. reported first-half profit that missed analysts' estimates as losses from jet-fuel hedges mounted and competition with Chinese carriers cut passenger yields. The shares dropped the most in a year.
Net income in the six months through June fell 82 percent to HK$353 million ($45.5 million), Asia's biggest international airline said Wednesday. That fell short of the HK$1.07 billion median estimate in a Bloomberg News survey of four analysts. Sales declined 9.3 percent to HK$45.7 billion.
Chief Executive Officer Ivan Chu has struggled to revive profitability at the marquee Hong Kong carrier as passenger yields -- the money earned from carrying a passenger for one kilometer, and a key measure of an airline's profitability -- slumped again amid competition with Chinese and Middle Eastern airlines. Chu, who has stuck with the airline's fuel-hedging policy amid the plunge in oil prices, has ordered more than $10 billion in new aircraft to take on rivals.
"Cathay needs to prove it can cut costs but still be perceived as premium," said Will Horton, an analyst at CAPA Centre for Aviation. "That would be an accomplishment - the cards are stacked against being a highly efficient premium airline. Not even Emirates has achieved that."
Hedging Loss
Shares fell 7.3 percent to HK$11.92 in Hong Kong, making Cathay the world's worst airline stock on Wednesday. They tumbled as much as 7.8 percent earlier.
Cathay reported a HK$4.49 billion in fuel-hedging loss in the first half, smaller than some analysts estimated, and compares with the HK$3.74 billion loss a year earlier. Passenger yields fell 10 percent to 54.3 Hong Kong cents.
Cathay is among airlines that didn't benefit fully from the drop in oil prices as the level at which it has hedged is higher than the spot market price.
Cathay said in March that 60 percent of its fuel needs this year is hedged at an average $85 a barrel. Brent crude now trades at about $48.57 a barrel. Rival Singapore Airlines hedged 37.5 percent of its fuel needs in the July-September period at an average $81 a barrel, compared with 42 percent at $87 in the April-June quarter.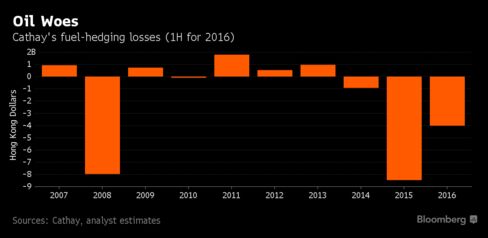 Cathay will have "a hard time" for the next two to three years because of its fuel hedging, John Hu, an analyst at Morningstar Investment Service in Shenzhen said Aug. 8.
"We expect the operating environment in the second half of the year to continue to be impacted by the same adverse factors as in the first half," Cathay Chairman John Slosar said in the statement. "We expect passenger yield to remain under pressure. The benefits from lower fuel prices will continue to be partially offset by losses on our fuel hedging contracts."
The company is "adequately hedged" on oil and will keep its policy this year and next, he told reporters in Hong Kong Wednesday.
Cathay and its unit Dragonair carried 2.7 percent more passengers in the first six months of this year, taking the number to 17.2 million. Traffic during the period rose 2.3 percent from a year ago, while capacity increased 4.2 percent.
Cathay's yields have been under pressure as Air China Ltd., China Eastern Airlines Corp. and other carriers offer more direct services from the mainland, making it less attractive to hop via Hong Kong. That's coming at a time when the Middle East's 'Big Three' -- Emirates, Etihad Airways and Qatar Airways -- expand more into Asia and offer luxuries such as butlers and shower rooms.
Third Runway
Chinese carriers have added 25 percent to 30 percent more direct international flights so far this year, Eric Lin, an analyst with UBS Group AG in Hong Kong, said Aug. 9. That compares with a 2.6 percent increase for Cathay during the same period, according to the company's June operations statement.
Cathay Pacific also faces other challenges. The Hong Kong city administration scrapped a fuel surcharge starting February and is now imposing a levy to finance a third runway at the Chek Lap Kok airport. Authorities have started imposing a fee of between HK$70 and HK$180 per passenger who fly out of Hong Kong for the HK$141.5 billion expansion of the airport.
While these fees won't have a significant direct impact on Cathay's financials, it limits an airline's ability to raise fares and will put pressure on yields, K. Ajith, an analyst at UOB Kay Hian Pte, said before earnings.
Also, the Hong Kong airport plans to increase parking and landing fees by as much as 27 percent for airlines starting Sept. 1. The fees in the territory account for about 10 percent of Cathay's total costs, CIMB Group Holdings Ltd. said in June.
Hong Kong aviation authorities told airlines to remove fuel surcharges from Feb. 1, cutting Cathay's ticket prices by 6 percent to 7 percent, which is a "disaster" for the city's flag carrier given its fuel-hedging policy, according to a CIMB Group Holdings Ltd. note dated June 25.
Airlines charged HK$109 for long-haul and HK$24 for short-haul flights from Hong Kong before the levy was eliminated, according to the Civil Aviation Department.
Before it's here, it's on the Bloomberg Terminal.
LEARN MORE