South Korea's $487 Billion Pension Fund Seeks China Yields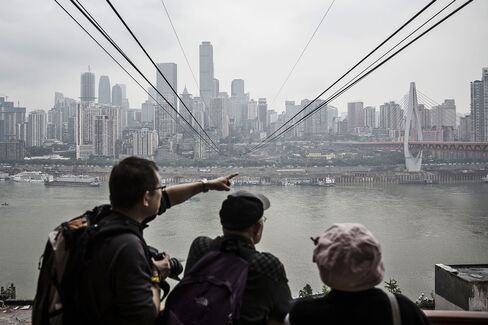 High yields, market size attractive in China, NPS's Kang says

Currency instability, curbs on fund flows remain concerns
South Korea's retirement fund plans to buy more bonds in China and is considering India as it hunts for higher yields in developing nations.
The National Pension Service aims to pump some of its 533 trillion won ($487 billion) of assets into China, according to Chief Investment Officer Kang Myoun Wook. It is also looking at putting money into India, where yields are the highest among major Asian nations. The fund, slightly overweight emerging markets for now, is reviewing when to beef up investments further, Kang said.
"Chinese yields are high and issuance is considerable," said Seoul-based Kang. "China is one of the markets which, together with India, we have a keen interest in among emerging markets."
Global inflows into Chinese debt are helping drive a rally that sent the benchmark 10-year yield to a decade-low of 2.64 percent. That's still almost twice as high as South Korea's 1.44 percent. Aiding NPS's plan to join a global move of retirement savings into riskier markets will be the won's 5.9 percent surge in the past three months, which gives an incentive to export-dependent South Korea to encourage outflows.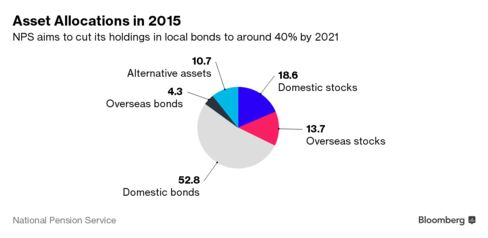 Chinese sovereign bonds have benefited from a global haven hunt exacerbated by Britain's decision to leave the European Union. The Asian nation's yields prompted global funds to boost their holdings of local debt by the most in two years in June. Chinese authorities have since February allowed all types of medium- to long-term overseas investors to access the interbank bond market.
While NPS finds the efforts to open China's bond market "very encouraging," concerns remain about limits on fund repatriation and the currency's instability, Kang said. With outflows surging to an estimated $1 trillion in 2015, China has stepped up scrutiny of cross-border transactions and frozen quotas for a program that lets individuals invest abroad. The yuan has weakened 2.1 percent this year, the most in Asia.
MSCI Inc. cited accessibility concerns when it said in June that it wouldn't include Chinese stocks in its indexes. Citigroup Inc., which owns benchmark bond gauges, said the same month that it is seeking client feedback that can be used in any potential review. China's inclusion in global indexes will facilitate NPS's investments, said Chi Young Hye, the fund's chief spokeswoman. The fund has plowed about $300 million into Chinese equities through an investment quota, she added.
Market Depth
"There's no doubt that China needs to increase the depth of the markets, enhance policy transparency, facilitate fund withdrawals and keep the currency's stability," Kang said.
NPS will invest 2.4 trillion won in overseas bonds by 2017 to take total holdings of such assets to 24.3 trillion won, according to a five-year fund proposal approved in May. The fund said it aims to increase its holdings of foreign bonds, stocks and alternative assets to more than 35 percent by 2021 from 24.3 percent in 2015. HSBC Holdings Plc has been named its custodian for the China push.
Low returns are a challenge for Korea's pension system, which is facing pressure from a rapidly aging population. The government's Statistics Office estimates the proportion of South Koreans aged 65 and above will climb from 13 percent to 40 percent by 2060. NPS, set up in 1988 to manage pensions for private-sector workers and the self-employed, returned 4.6 percent in 2015 following a gain of 5.3 percent the previous year.
Target Return
The public fund is targeting an annual return of 5 percent in the next five years. To help achieve this, it aims to reduce holdings in domestic bonds to around 40 percent by 2021 from 53 percent in 2015, while raising its proportion in local and foreign equities to 45 percent from 32 percent.
The MSCI All-Country World Index has climbed 19 percent from a trough in February, versus a 10 percent gain in Korea's benchmark Kospi index of stocks. The nation's 10-year sovereign yield fell 73 basis points this year to an all-time low of 1.36 percent on July 28. In China, a two-year sovereign bond rally will continue, sending its benchmark 10-year yield to 2.5 percent this year, according to a Bloomberg survey of traders and analysts.
Global Trend
"NPS is following a global trend of seeking opportunities abroad," said Seungwoo Lee, a global asset allocation strategist at Mirae Asset Daewoo Securities. "Returns are better abroad rather than at home. The aging population is also one of the reasons for NPS to seek higher yields to pay pensions for more beneficiaries."
As global central banks flood markets with liquidity, asset prices are artificially inflated, making it harder for NPS to invest, spokeswoman Chi said.
"The Chinese government has a strong will to open up financial markets and they have great potential to grow," said Lee Kyungjik, head of the NPS's global public-market investment division. "I am sure China will eventually accommodate big investors like us."
Before it's here, it's on the Bloomberg Terminal.
LEARN MORE