Cars
Here's What Jaguar Got Right With the 2017 F-Pace SUV
This SUV is good enough to be considered along with the best in class from Audi, BMW, Mercedes-Benz, and Porsche
"The problem with SUVs is they look like SUVs."
This line came from a writer friend who just slid next to me into the front seat of the 2017 Jaguar F-Pace 35t R-Sport.
He's right. Most premium SUVs on the market today have about as much personality as a suburban subdivision. The rest are bizarrely boxy, as if they came straight from a '90s video game about the future.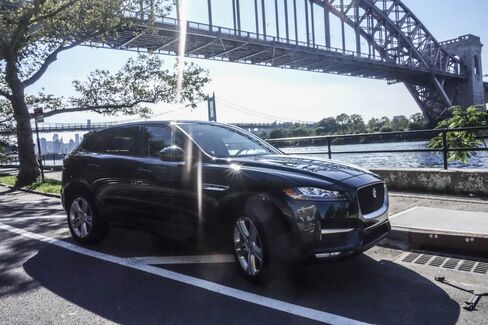 To me, the bulk of them, with every passing year, look more and more like a smoothed-out Porsche Cayenne—a sea of sexified turtles gliding by one another in fast motion. Remove the badges from a Maserati Levante, a Cayenne, an Audi Q5, a Mercedes GLC, and a BMW X5, then slap on identical rims, and from the side you'll be hard-pressed to identify which is which.
(Even the lower-end Toyota Venza and Honda HR-V are getting the same look. This is bad news for those first cars from the luxury brands I listed, which start at about $20,000 more. When the hoi polloi get too close for comfort, you know it's time to evolve.)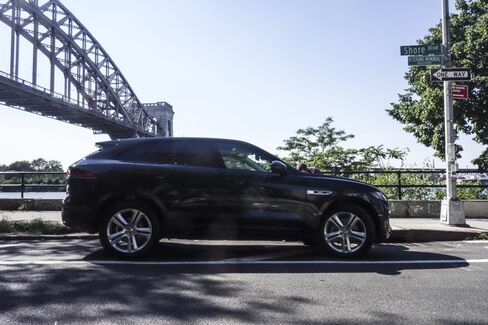 Jaguar's 2017 F-Pace, new to the road this year, looks … pretty much the same. But my writer friend, after testing it with me, decided: "This one is actually pretty good!" The car looks just different enough through the front and sides—and has a driving character just interesting enough to remember—that it deserves consideration apart from the rest of the pack.
This is the $40,990, first-ever Jaguar SUV. The company claims its looks evolved from the form of the low-slung, roadster F-Type, rather than other SUVs on the road. Fine. Jaguar made the F-Pace to tap into the lucrative crossover market that keeps growing worldwide. It seems to be working: Last year Jag sold 14,466 vehicles total in the United States, a truly paltry sum for what is supposed to be mass luxury. (Emphasis on mass.) Jaguar sold 83,986 vehicles globally in 2015. But since May, sales of the XE sedan and F-Pace have constituted half of Jaguar's sales in the U.S. And in the first seven months of this year, the brand's total vehicle sales in the U.S. were up 59 percent.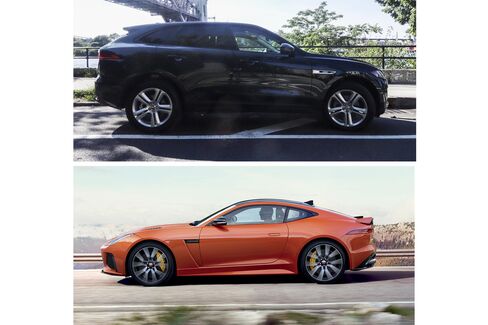 At any rate, the F-Type and F-Pace are not close relatives. The former is snarly, fun, and impractical, while the F-Pace offers comfort, space, and convenience. But both have Jag's rounded rectangular grill; both have a hood that bulges softly forward and hips that jut out slightly, like those of a cat ready to pounce. The two also share exhaust pipes, tight-look wheel wells, and taut wheelbases—though the effect is muted somewhat on the F-Pace. On first glance, the SUV doesn't seem all that special, but the effect lingers. The longer I looked at, photographed, and drove the F-Pace, the more I liked it. I expect you will, too. This is a handsome rig.
Powerful Performance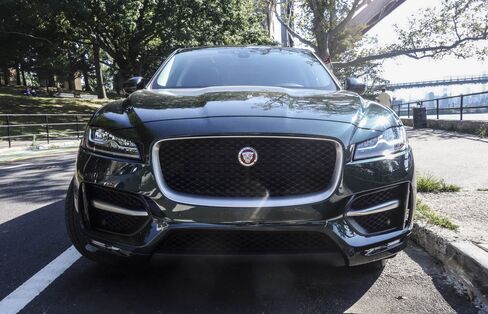 Comfortable, attractive, and sporty—this, too, is how the beast acts when it's "ignited," as my videographer charmingly put it one day in Queens. The 35t R-Sport I drove comes with an excellent 340-horsepower, supercharged V6 engine, the same as the one in the F-Type. (The F-Pace shares its diesel engine with the XE and XF sedans.) It has an eight-speed transmission; all-wheel drive comes standard. This version of the car starts at $55,300, but you can get into this 35t powertrain for as low as $42,390.
Your other options include a 380hp sport engine, which goes for $56,700. You can also get that 180hp, four-cylinder diesel engine for a $40,990 starting price, or the 20d R-Sport version for $53,900; the latter will get you better gas mileage, though exact numbers have yet to be released by Jaguar.
The sprint on these babies vary wildly, depending on which of the many engine versions you select, but the 340hp 35t R-Sport I drove can hit 60 miles per hour in 5.4 seconds. (You can do it in 5.1 seconds in a 380hp F-Pace S AWD version.) In fact, drive the F-Pace for a week and you'll notice how smooth it is upon acceleration. (The brakes are sound, though not astonishing.) The steering is precise and of medium resistance, and the car feels nimble for its 4,015-pound heft. Jaguar credits a "revolutionary" aerodynamic design for this, as well as for its exceptionally quiet ride. Again, fine.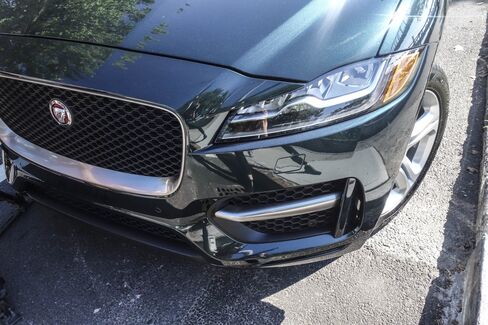 Here's another nod to the F-Type: The all-wheel-drive system acts like a rear-driver but can lock in a 50/50 or better torque split when needed. (As in the F-Type, I immediately disengaged the annoying start/stop function that helps the car get a combined 20mpg.) All told, F-Pace is fun to drive—it doesn't lag like the larger offerings from GM, or wobble like the Lexus, and it never becomes a burden in cement shoes like some other SUVs. I love the expensive Mercedes G-Wagon, but that thing takes a heavy foot to perform. This makes something like a Cadillac Expedition feel like a lumbering giant.
Inside the Beast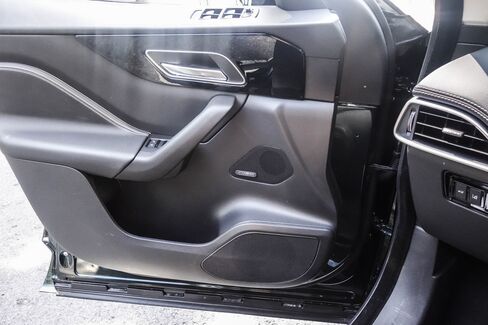 The design conforms perfectly to how you'll use this car: The massive trunk with automatic closing function looks large enough to fit a refrigerator. And the ceiling-long power automatic sunroof drenches the interior with light—and a feeling that you're not trapped in a safe with every single one of your kids' friends after soccer practice. For example.
At the front, you'll find the same rotary dial Jaguar has placed in all its new models; turn the knob to move from park to reverse, drive, and sport. There are paddle shifters on the steering wheel (it's an eight-speed automatic) and a high-def computerized 12.3-inch cluster of three instrument dials behind it. The dual cup holders, the clean, thoughtful dashboard configuration, and the (optional) multicolor tones inside all make the F-Pace feel special inside without overdoing it.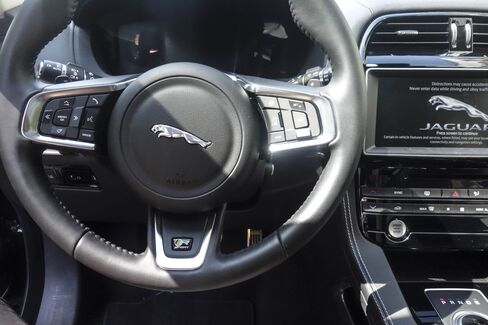 To the right is Jaguar's 10.2-inch computer touchscreen that displays and controls the sound and media functions, climate, navigation, and cameras to help you see behind the car, see around blind spots, and stay in your driving lane. I do not like this screen, as I have mentioned. The resolution could be better, the shape less narrow, and the screen itself more sensitive and precise to digital (finger) input. There's nothing wrong with it, per se. I just wish it were better.
The other complaint about the interior of the F-Pace I've mentioned elsewhere, with regard to other Jaguars: the weird configuration of split-level doors that place locks, window controls, and door handle on three different planes. Why make it so complicated? But this is a small thing. Everything else inside the F-Pace is minimal and comfortable and sporty, not stodgy or overburdened with options and technology. You should buy extras such as a gloss-black radiator grill and power vents ($350 in the Black Package) and the lockable cooled glovebox, mood lighting, and illuminated metal tread plates that come in the $2,200 Luxury Interior Package. Heated and reclining rear seats come in an $1,800 interior comfort package. But the nice thing about such an affordable starting price is that it leaves more room to play when it comes to the options list.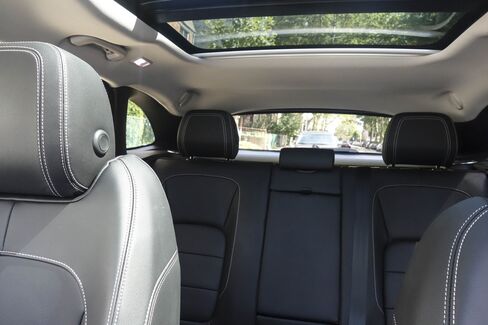 Looking Forward
Here's the point: This car has earned a warm vote of confidence for Jaguar. On its first outing, the company has given us a performance SUV good enough to get the job done without too much flash—and at a fair price that's equal to, or just less than, its competition. Consider the F-Pace to inhabit the luxury SUV sweet spot: a blend of powerful performance, some luxuries, and smart design, all at a price on par with the higher-end sedans of its ilk. This bodes very well for a company making a steady turnaround.
Audi, BMW, Mercedes, Porsche, Maserati: Your move.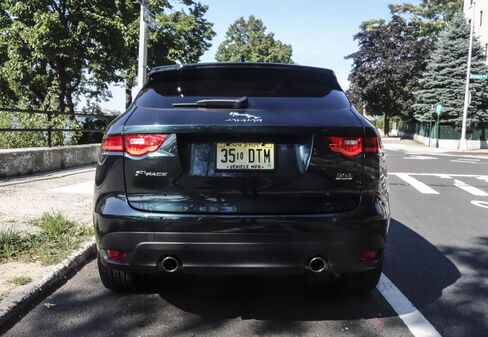 Before it's here, it's on the Bloomberg Terminal.
LEARN MORE