Polish Stocks Top Peers as Regime Seeks Truce With Investors
Dilution of proposed changes on banks, pensions buoys equities

WIG20 Index erases losses incurred after Brexit vote June 23
After a faltering start, Poland's Law & Justice party is winning over equity investors.
The WIG20 Index of the nation's shares is beating every other benchmark in emerging Europe and Africa in U.S. dollar returns this month, trading above its 200-day moving average for the first time since June 2015. A U.S. exchange-traded fund focusing on Poland is performing the best among emerging-market peers on a volatility risk-adjusted basis. Analysts are raising earnings estimates for Warsaw-listed stocks.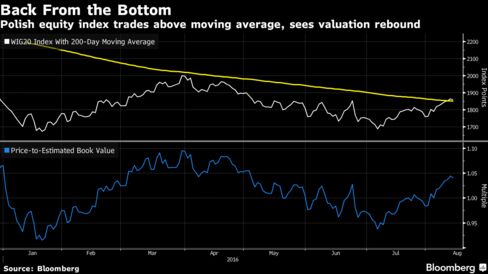 That's a turnaround for equities which plunged 34 percent between April 2015 and January 2016 as victories for Law & Justice in both the presidential and parliamentary elections last year spurred speculation the new government will pursue populist policies at the cost of business. Losses deepened in the second quarter of 2016, the worst in almost five years, as leaders suggested dismantling the privately owned pension-funds industry and threatened six years of banking profits with a loan-conversion plan.
Since then, there has been a policy rethink. And investors have been quick to notice.
"Recent weeks show that politicians broke a bad spell over Polish stocks by allowing for more market-oriented agenda with banks and pension funds," said Konrad Ksiezopolski, an analyst at Haitong Bank SA in Warsaw. "But it doesn't mean that regulatory risk is over."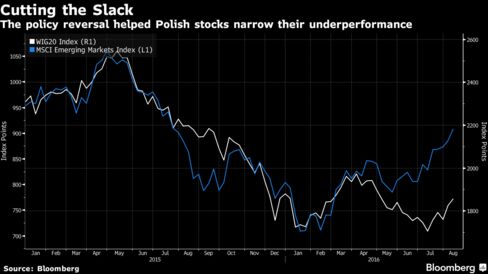 In a sign that Law & Justice is open to feedback, President Andrzej Duda scaled back his plan to switch foreign-currency mortgages to zloty, letting the central bank and the financial regulator take the lead on the issue. The pension plan has been rejigged to allow funds to continue investing in equities. The policy retreat spurred a rally in financial shares, even helping the WIG20 erase losses incurred in the aftermath of Britain's vote to leave the European Union.
Swiss-franc mortgages, popular among Poles 10 years ago because of lower interest rates, became a trap for many families after the Swiss let their currency appreciate since early 2015. Relief for borrowers at the cost of banks was a key plank of Law & Justice's poll campaign last year, and the party's victory drove the WIG Banking index to a 3 1/2-year low in January. The gauge has rallied 12 percent this month as the new plan envisages voluntary restructuring instead of forced, one-time change.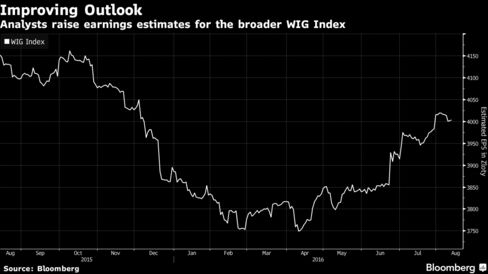 Equity losses earlier had also arisen from investor concern that Law & Justice will try to grab pension-fund assets, invested mostly in Polish stocks. For a while, that seemed to be the case, but the government's latest plan has reduced that risk by maintaining the funds will remain vehicles for long-term investment.
The final shape of the policy changes in both mortgage and pension programs is not known yet. It may not be until the fourth quarter that the Financial Stability Committee would decide on new capital requirements for banks that hold Swiss-frank loans. The government is yet to present the ultimate agenda for pension funds after consultations.
After last year's selloff, WIG20 shares became cheaper than the assets owned by the companies, reaching near the lowest valuation since 2009. The price has now rebounded to 1.01 times the book value. Earnings estimates for the broader WIG Index have risen almost 7 percent from April. At $145 billion, the market value of Warsaw stocks has jumped to the highest in almost four months. The WIG20 dropped 0.3 percent on Tuesday.
"Investors appreciate the surprising shift in the government's stance to a more pro-market one," said Dariusz Gorski, head of equity analysts at Bank Zachodni WBK's brokerage unit. "They are ready to continue buying Polish stocks, provided they get confirmation of the new approach."
Before it's here, it's on the Bloomberg Terminal.
LEARN MORE