German Yields Going Nowhere as ECB Provides Shield
Economists see 10-year yield rising to 0.35% by end of 2017

Bonds decline Monday amid lowest trading volume in a month
For investors in European government bonds, low yields are here to stay.
That's according to analysts surveyed by Bloomberg, who forecast Germany's 10-year bund yield will rise to just 0.35 percent by the end of 2017. The yield hasn't been above that level since February, when fresh concern about the outlook for the global economy sparked a rally, which was underpinned after Britain voted in June to leave the European Union.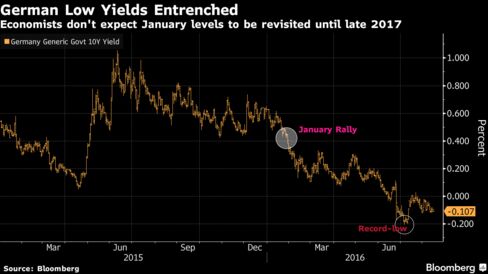 With futures pricing data going out as far as July 2018 showing no prospect of the European Central Bank raising interest rates, bond bulls appear to have little reason to fear a major reversal. Bonds fell Monday as parts of Europe were closed for a holiday, with trading volume on the benchmark 10-year bund futures contract sliding to the lowest since July 4.
"There's that hope as far as the market is concerned that there's going to be more easing," said Orlando Green, a rates strategist at Credit Agricole SA's corporate and investment-banking unit in London. "We still have a number of event risks that are still playing on the minds of the market, Brexit being first and foremost. There are number of things that need to play out."
Benchmark German 10-year bund yields increased four basis points, or 0.04 percentage point, to minus 0.069 percent as of 4:04 p.m. London time. The zero percent security due in August 2026 fell 0.397, or 3.97 euros per 1,000-euro ($1,120) face amount, to 100.693. The yield dropped to a record minus 0.205 percent on July 6.
Yield Forecasts
The 10-year bund yield will rise to zero by year-end and reach 0.35 percent by the end of 2017, the Bloomberg survey shows. That compares with forecasts of zero and 0.5 percent in last month's survey. The average yield over the past five years is 1.16 percent.
Italy's 10-year bond yield rose two basis points to 1.06 percent, having dropped earlier to an all-time low of 1.033 percent. The yield on similar-maturity Spanish debt increased two basis points to 0.94 percent, after falling to a record 0.913 percent on Aug. 11.
The rally in German government securities has left more than 80 percent of the $1.1 trillion of securities which comprise the Bloomberg Germany Sovereign Bond Index yielding less than zero.
Traders await an account due Thursday of the ECB's July policy meeting. That comes a day after the Federal Reserve releases the minutes of its July 26-27 policy gathering, when officials kept interest rates unchanged even as they said risks to the U.S. economy had subsided.
(
Corrects story, starting in second paragraph, to reflect change in survey's median forecast for end-2017 after Dekabank corrects contribution.
)
Before it's here, it's on the Bloomberg Terminal.
LEARN MORE