Newcrest Full-Year Profit Falls 24% on Lower Gold Prices
Earnings also declined on copper volumes, mine disruption

Australian producer declared dividend of 7.5 cents a share
Newcrest Mining Ltd., Australia's biggest gold producer, said full-year profit fell 24 percent after bullion prices touched a six-year low in December.
Underlying profit was $323 million in the 12 months ended June 30, from $424 million a year earlier, Melbourne-based Newcrest said Monday in a statement. That was in line with the $324 million average of 10 analysts' estimates compiled by Bloomberg. It declared a a final dividend of 7.5 cents a share, the first since 2013.
Reinstating a dividend is a "message to the market that deleveraging is well advanced, operations are on track, and discretionary capital options are now available," Peter O'Connor, a Sydney-based analyst with Shaw and Partners Ltd., said in a note after the result was announced.
Bullion fell in December to the lowest since 2009, before commencing a rally that's lifted prices by more than a quarter as investors flock to haven assets amid global economic and political uncertainty. Newcrest's average realized gold price fell to $1,166 an ounce in the year to June 30 from $1,221 an ounce in the previous 12 months, the producer said in its statement.
Newcrest declined 4 percent to A$24.51 in Sydney trading. The producer has advanced 89 percent this year, as a Bloomberg Intelligence index of 14 large producers has jumped 152 percent.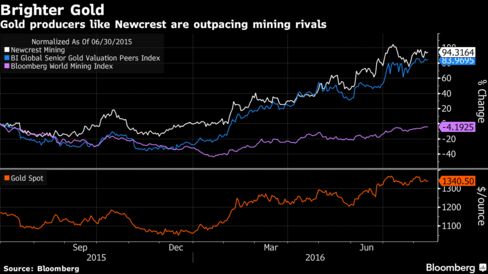 Lower profits also reflected reduced copper output at the Cadia and Telfer mines and a fall of about a quarter in Newcrest's average received copper prices, it said. Earnings also were crimped by a suspension of operations at Indonesia's Gosowong mine following a rockfall caused by a so-called geotechnical event, during which a worker was trapped and later rescued.
Bullion for immediate delivery rose 0.3 percent to $1,339.65 an ounce at 4:18 p.m. in Sydney, according to Bloomberg generic pricing. The metal touched $1,375.34 on July 11, the highest since March 2014.
Processing of low grade stockpiles at Hidden Valley in Papua New Guinea can continue for about a further 12 months and partners are continuing to review all strategic options for its future, Newcrest said. A change in mining method at Gosowong following February's rockfall means output will be limited to about 75 percent of the site's previous capacity.
Full-year gold production in the 12 months to July 2017 is forecast to be between 2.4 million ounces and 2.65 million ounces, Newcrest said. Annual output in fiscal 2016 rose to 2.44 million ounces from 2.42 million ounces a year earlier, the company said in July. Net debt fell 27 percent to $2.1 billion, the producer said.
Before it's here, it's on the Bloomberg Terminal.
LEARN MORE