Local corporate bonds gain 4.4% in 2016, versus 9.2% in U.S.

Economy diverges from U.S. as Reserve Bank considers rate cut
Corporate bonds in Australia are losing out to their U.S. peers for the first time in six years as the South Pacific nation struggles with the aftermath of a mining bonanza.
Resources companies and lenders lagged behind as a gauge of corporate notes Down Under returned 4.4 percent this year, trailing a 9.2 percent rally in U.S. credit. Bonds from consumer companies, utilities and communications led local gains. Foreign-based issuers, who make up more than 40 percent of the index, are among the best performers.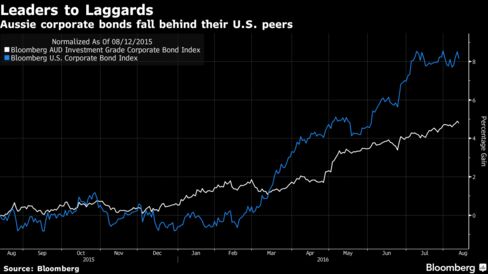 While commodities are rebounding from a multi-year selloff, the fallout is still being felt across the nation, with miners such as BHP Billiton Ltd. forced to cut costs under credit rating pressure. Local lenders including Commonwealth Bank of Australia are setting aside money for bad-debt charges. Policy makers cut benchmark interest rates this month to a record 1.5 percent, eroding the yield advantage that had supercharged Aussie debt in recent years.
"We've had some earnings growth but it's been compromised in part by the pullback in mining-company profits," said Stephen Roberts, an economist at Melbourne-based advisory firm Laminar Group Pty, who was the most accurate in forecasting the nation's benchmark yield last year. The economy's inability to spur inflation means the central bank will have to reduce rates again, he said.
Aussie corporate bonds are poised to underperform their U.S. counterparts in 2016 for the first time since 2010, based on Bank of America Corp. indexes.
BHP Outlook
When Moody's Investors Service cut BHP Billiton's rating by two levels earlier this year, the rating company said it had a negative outlook on the miner and expected its credit metrics to remain "substantially weaker" in the next year or two.
Iron ore has slumped almost 70 percent from a record in 2011, while coal has lost half its value in about the same period. Australia's government said in July it sees iron ore averaging $44.80 a metric ton next year, cutting the forecast from $56.
Commonwealth Bank, the nation's biggest lender, posted the slowest profit growth since 2009 in a report last week. Bad-debt charges rose as the lender made higher provisioning for its exposure to the resources, commodity and dairy sectors, it said.
Loan Provisions
Australia & New Zealand Banking Group Ltd.'s cash profit dropped on expenses for bad debts, it said last week. National Australia Bank Ltd.'s third-quarter profit fell amid rising expenses for bad debts and provisions for mining and agricultural loans, the lender said Monday.
With the central bank warning the economy needs help, company bonds are also trailing government securities, which are up 7 percent in 2016, based on Bloomberg indexes. Reserve Bank of Australia Governor Glenn Stevens has cut the benchmark rate twice this year, and swaps indicate traders expect one more reduction as soon as the first quarter of 2017. Stevens, who is retiring in September, said in a speech last week the nation can't rely on monetary policy alone to spur the economy.
Corporate bond returns are still positive, benefiting from the worldwide hunt for yield.
Even BHP's 3.75 percent bonds due in 2017, which have the largest weighting in Bloomberg's Australia corporate debt index, are up. The yield has fallen to 2.60 percent from 3 percent a year ago, according to Bloomberg Bond Trader data.
Inflation Debate
U.S. company bonds are maintaining their advantage as Federal Reserve officials debate when inflation will be fast enough for them to raise interest rates, the opposite of what's happening in Australia.
"Relative to the rest of the world, Australia does have a few issues, particularly in the commodity space," said Roger Bridges, chief global strategist for interest rates and currencies at Nikko Asset Management Co.'s Australian unit in Sydney, which has $14.6 billion in assets. "We may underperform, but I still think it's a good buy."
Before it's here, it's on the Bloomberg Terminal.
LEARN MORE