Spain Risk Premium Evaporating as Political Talks Spark Optimism
Yield on nation's 10-year debt touched record-low this week

Liberal party Ciudadanos softens opposition to premier Rajoy
Spain's bonds are approaching another milestone.
After the yield on 10-year government securities fell to a record low this week, the spread over similar-maturity German bunds hovered just above one percentage point, a level not seen since before the nation's inconclusive elections in December.
The catalyst for a break below that level may come from politics yet again -- as a meeting between the People's Party and rival Ciudadanos next week boosts optimism the nation's seven-month political deadlock may be approaching an end.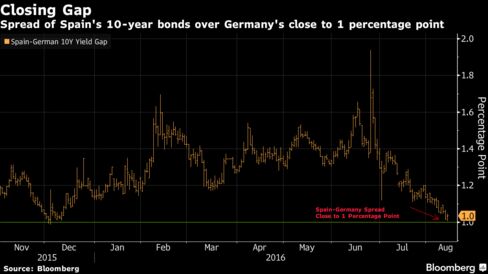 Spain's government bonds may hold on to four weeks of gains as they and other sovereign bonds in the euro area also are supported by the European Central Bank's ongoing purchases alongside the Bank of England's revived quantitative-easing program.
With few economic data set for release early next week, and many traders in Europe on holiday for the summer, politics in Spain will likely take center stage.
Acting Prime Minister Mariano Rajoy said his People's Party's executive committee will vote Aug. 17 on the conditions imposed by Ciudadanos as a pre-requisite for the liberals to hold talks on supporting Rajoy's investiture vote. Ciudadanos leader Albert Rivera's softening of his opposition to any administration headed by Rajoy may be a step toward ending a seven-month political stalemate, although the two parties still fall short of controlling a majority in Parliament.
"Hopes have been increasing that there could be a government formed," said Jan von Gerich, chief strategist at Nordea Bank AB in Helsinki. While a resolution is still far from certain, "as long as they continue negotiating and the most likely government leader is the PP, the markets aren't too worried," he said. "The momentum continues to be toward narrower spreads in the short term."
Yields on Spain's 10-year bonds dropped nine basis points, or 0.09 percentage point, in the week to 0.93 percent as of the 5 p.m. London-time close on Friday. The 1.95 percent bond due in April 2026 rose 0.825, or 8.25 euros 1,000-euro ($1,117) face amount, to 109.44. The yield touched a record low of 0.913 percent on Aug. 11.
The decline in yields pushed the spread over similar-maturity German bund yields to as low as 1.01 percentage point Friday, the lowest since December 2015, while they ended the day at 1.04 percentage point.
Before it's here, it's on the Bloomberg Terminal.
LEARN MORE